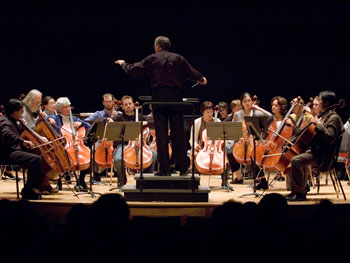 Jeffrey Renshaw conducts UConn cellists at von der Mehden Recital Hall during the recent Cello Festival.
Photo by Peter Morenus
February 12, 2007 ¦ Volume 25, No. 20

Governor's budget mixed news for UConn
Gov. M. Jodi Rell last week announced a budget package for the 2008-09 biennium that funds the University at about current service levels but eliminates two programs created by the legislature in 2006 to boost the state's economy. Read more...
Research building purchased to house Stem Cell Institute
With authorization from the Board of Trustees, the University has purchased the former FarmTech building near the Health Center in Farmington. Officials plan to renovate the nearly 113,000-square-foot structure to establish a Center of Innovation that will include the University's new stem cell institute, along with cutting edge cell biology and genetics research. Read more...
Committee formed to search for new President
Dr. John W. Rowe, chairman of the Board of Trustees, has named a committee of faculty, staff, alumni, and others to search for a replacement for President Philip E. Austin, who will return to the faculty in September after 10 years in office. Read more...
Three UConn researchers named 2007 Women of Innovation
UConn faculty members Mei Wei and Qing Zhu, and doctoral student Kristyn Greco have received three of nine 2007 Women of Innovation awards from the Connecticut Technology Council (CTC). Read more...