Faculty who think they might need to cancel a class because of a conflicting professional or personal obligation are getting some help from the UConn Women's Center.
The center's staff can provide guest lecturers for faculty who find themselves unable to teach on a given day.
"We can work with you to develop a presentation tailored to your course, or you can choose from sessions that we've designed specifically for the initiative," says Kathleen Holgerson, the center's director.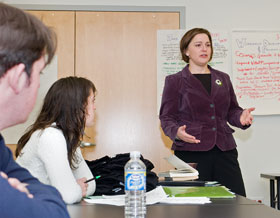 Betsy Cracco, right, of the Women's Center, addresses a class as part of the Don't Cancel Your Class program.
Photo by Jordan Bender
Topics in the "Don't Cancel Your Class" program include sexual harassment, workplace issues/climate, women's rights – what you need to know in the political sphere, diversity, and how to be an ally. Courses are taught by Betsy Cracco, coordinator of the Violence Against Women Prevention Program; Kathy Fischer, associate director of the Women's Center; and Holgerson.
The staff can come to the class in its regular location, or classes can be scheduled at the Women's Center, located in the Student Union.
Whether it's a class in the humanities or the sciences, Holgerson says her staff will tailor it to the faculty member's needs.
"We can work with you, depending on what you're teaching, to bring the gender component to it," she says. "For example, if it's a science course, we might discuss the issues that face women as scholars in math and science."
When associate professor of psychology Janet Barnes-Farrell had to be out of town recently to attend a professional conference, she had Holgerson speak to her class. She discussed gendered communication in the workplace.
"It was a wonderful opportunity to bring in somebody knowledgeable," says Barnes-Farrell.
"I didn't have to cancel, and class time was well spent. The students gave wonderful feedback.
"The program met multiple goals," she adds.
"It allowed me to travel without guilt, the class didn't lose time, and it fulfilled the goals of the Women's Center."
Holgerson encourages faculty to consider having Women's Center staff speak in their classes even if they're not planning to be away.
"We are always available to give presentations, and have always done that," she says. "If there's something you'd like to explore in class, please give us a call."
She says the staff aim to engage the students in dialogue and conversation.
"We structure our sessions to be interactive, and hope they'll leave the sessions thinking, 'This has been an opportunity to learn something either about gender issues or about the Women's Center that I wouldn't have known otherwise'."
Holgerson says the Women's Center has a threefold mission: education, advocacy, and support services.
"This program clearly fits in with our educational mission, in that we're trying to educate the community about women's issues and about the impact of gender equity. In terms of advocacy, the program is an opportunity to learn about some of the resources available on campus. Should someone ever need help around violence against women, sexual harassment, or discrimination, they will have a face to connect with the place to get the services.
"The program also helps faculty negotiate the balance of work and family obligations when there's a conflict," Holgerson adds.
"They can attend to their personal obligations and know that their students are still participating in a classroom experience relevant to the course content," she says.
Cracco, a counseling psychologist, has spent more than 10 years working in college mental health settings and teaching a variety of courses at the college level focusing on the intersection of gender, relationships, student development, and mental health.
Before coming to UConn in 2001, Fischer worked for Connecticut Sexual Assault Crisis Services as coordinator of education and outreach, and was a counselor and advocate for more than eight years.
Holgerson has more than 17 years' experience working on issues of gender equity, multiculturalism, and violence against women.
She has held several positions both at the UConn Women's Center and in community-based and non-profit women's organizations in community education, counseling and crisis intervention, and program development.
For more information, call 860-486-4738.