UConn faculty members Mei Wei and Qing Zhu, and doctoral student Kristyn Greco have received three of nine 2007 Women of Innovation awards from the Connecticut Technology Council (CTC).
Wei, an assistant professor of chemical, materials, and biomolecular engineering, received the academic innovation and leadership award in recognition of her contributions to teaching, research, and outreach in the field of biomaterials.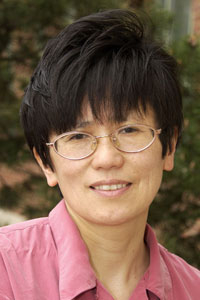 Qing Zhu, associate professor of electrical and computer engineering
Photo supplied by School of Engineering
Zhu, an associate professor in the electrical and computer engineering department, received one of two awards presented in the area of research innovation and leadership for her development of a novel breast cancer detection device.
Greco, a doctoral student in pharmacy, captured the collegian innovation and leadership award.
The Women of Innovation awards, begun in 2005, are presented annually by the CTC in recognition of outstanding contributions by Connecticut women in the fields of science, engineering, education, and business.
A total of 120 nominations were submitted. Awardees are selected by the Women of Innovation event steering committee, which comprises past winners and representatives from sponsoring organizations.
Commenting on the awards to Wei and Zhu, Mike Scricca, membership director of the CTC, said, "It's a distinctive achievement for the University of Connecticut to have two of its finest professors win these awards. Ms. Wei and Ms. Zhu are truly remarkable women working in science and technology."
CTC, Connecticut's industry association for the technology sector, seeks to attract and unite various state constituencies to enhance the technological prowess, culture of innovation, and economic well-being of the state.
The awards were presented during a ceremony on Jan. 25.
"These women are making a difference in their workplace and in academia," said Elizabeth Alquist of Day Pitney, chair of the event's planning committee, "but more importantly, they are role models and innovators."
Wei is investigating new synthetic composite materials, woven from apatite and polymer fiber, for use in promoting bone repair, spinal fusion, and other skeletal healing.
More than 1 million bone repair procedures are performed in the U.S. each year, says Wei.
She believes hydroxyapatite/polymer material will provide greater structural integrity to bones as they repair, and that the combination may be used to deliver bone-regenerating drugs.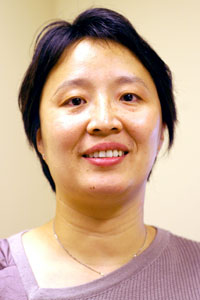 Mei Wei, assistant professor of chemical, materials, and biomolecular engineering.
Photo supplied by School of Engineering
She expects the combination will slowly biodegrade in the human body, thereby eliminating the need for replacement or follow-up surgery to remove the materials.
She is also researching development of hydroxyapatite/polymer composites for tissue engineering applications; and investigating ways to improve titanium-based orthopedic and dental implants by application of a hydroxyapatite coating to the surface prior to implantation.
Zhu was awarded one of two research innovation and leadership awards for development of a device that, when used as a complement to ultrasound, yields more accurate diagnosis of breast cancer.
The device combines near infrared (NIR) and ultrasound to overcome the limitations of each individual technology. It is used after an initial examination – either a mammogram or a manual exam – has detected a potential cancer.
Working with collaborators at the UConn Health Center and Hartford Hospital, Zhu and her team have conducted clinical studies on more than 180 human volunteers to test the effectiveness of the instrument and refine its sensitivity.
She has been awarded two U.S. patents for this technology, and previously garnered over $2 million in funding from the National Institutes of Health and Department of Defense.
Last year, Zhu was one of three recipients of the Donaghue Investigator Award, which provides $500,000 in research funding over five years.
Kristyn Greco, a pharmaceutics doctoral student, won the Connecticut Technology Council's award for collegiate innovation and leadership for her role in developing a novel dissolution apparatus for characterizing pharmaceutical compounds.
The device is small enough to fit on a microscope stage, allowing drug developers to watch the drug dissolution process to learn what drug salts are most effective in different dissolution media.
A number of drugs have really low solubility, Greco explained, so the device, which has a patent pending, should help drug developers address that issue with various medications early in the drug discovery process, potentially saving considerable time and money and helping to get new medications to market sooner.
Greco, who holds a bachelor's degree in chemical engineering, began work on her Ph.D. in UConn's School of Pharmacy in 2004 .
This project was part of a mechanical engineering senior design project, and included collaboration from two mechanical engineering students as well as Dr. Theodore Bergman.
This work represents Kristyn's early dissertation work with her major advisor Robin Bogner, who came up with the original idea and prototype.