Raise a glass of chardonnay – to your health! A researcher at the Health Center and his colleagues in Italy say that white wines may have the same heart-healthy benefits as red.
Studies in the 1990s indicated that drinking red wine in moderation benefited one's health.
Researchers determined that the potent antioxidants anthocyanin and resveratrol – which are linked to fighting cancer, heart disease, and other ailments – are present in the skins of the grapes that are used, along with the pulp, to make red wine.
Because white wine is generally made from just the pulp, not the skins, of red grapes, it was assumed that white wine didn't have the same health benefits.
But Dipak Das, a professor of surgery, and researchers in Milan and Velletri, Italy, recently completed a study that suggests white wine is beneficial as well.
The study, published in the Journal of Agricultural and Food Chemistry, shows that the pulp of grapes is as heart-healthy as the skin, even though the antioxidant properties differ.
It is the pulp that is crushed to release the juice from which wine is made.
The researchers tested grape skin and flesh extracts from four varieties of red grapes.
The experiments showed that the two types of extract possessed the same cardio-protective benefits, even though the polyphenols – the key compounds found in grapes that account for their antioxidant properties – differed.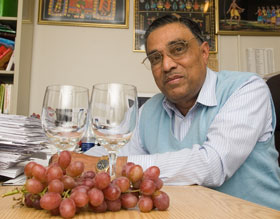 Dipak Das, professor of surgery at the Health Center, has studied the cardio-protective properties of grape skins and grape pulp.
Photo by Peter Morenus
"The most important finding in this study is that the flesh and the skin of grapes appear to be equally cardio-protective," says Das.
"The antioxidant potential of the skin and the flesh of grapes is comparable."
The study also found that, although the flesh does not possess the antioxidants anthocyanin and resveratrol found in the skin of red grapes and in red wine, it does contain several organic acids and polyphenols possessing potent antioxidant activities that are also found in white wines.
Das says further study is needed to identify the principal ingredients responsible for the cardio-protective abilities of the grape flesh.
"Both the skins and the flesh contain almost identical amounts of sugars and organic acids," he says, "so it's unlikely that the difference in antioxidant potency between skin and flesh is because of the sugar content or the organic acids."