Got cheese? Not only does UConn have it, cheese is now being made right on campus.
Known for more than 50 years for its legendary ice cream, the University has now added cheese to its repertoire.
Since December, in a mini-factory behind the dairy bar in the White building, David Dzurec and his assistants have been cheesing it up.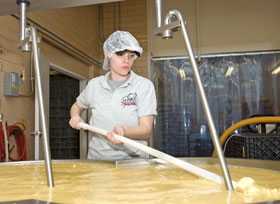 Jackie Patry, a 2005 graduate of the nutritional sciences program, stirs a whey mixture to form curd in the cheese room at the UConn dairy bar.
Photo by Jordan Bender
Cheese is made every other week, alternating with ice cream, says Dzurec, extension associate professor of food processing and creamery operations manager. It is sold in the dairy bar.
"We use the milk from our dairy herd, pick it up from the Kellogg Dairy Center, and bring it down here and pasteurize it," he says.
"Then we make the cheese."
So far, cheese curd, mild and sharp cheddar, and Colby varieties have been made.
"We decided to make cheese curd, because it's a variety of cheese that we could sell right away, since it doesn't have to be ripened," he says.
"We thought it would be a nice introductory item. You don't have to wait a month or two or three months, the way you do with cheeses like cheddar."
Dzurec says cheese curd, which is sold cubed, in half pound containers, has a mild cheesy flavor and is salty.
"You don't see it for sale too much here in the Northeast, but it's very popular in the upper Midwest," he says.
A mild cheddar was made, and sold out quickly. "It disappeared overnight," he says, noting that mild cheddar has to be aged for 30 to 60 days.
Sharp cheddars are aged at least nine months.
Lovers of sharp cheddar will have to be patient: there won't be any ready until the fall. Cheeses are vacuum-sealed in plastic, and placed into a cooler to age.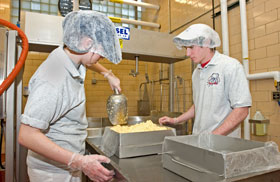 Jackie Patry and Zac Cavanaugh, a sophomore majoring in exercise science, pack the curd into trays to be pressed.
Photo by Jordan Bender
There is, however, a cheese that could be on the shelves by the beginning of March. It's a cheese originating from Finland, called Juustoleipa (pronounced HOOstah-lee-pah), that doesn't have to ripen.
"We have a large population of people from Finland living in Canterbury, and I've talked to friends who are quite excited about it," Dzurec says. "It's often eaten for breakfast with coffee, topped with syrup or jelly. It's served warm and looks like toast."
Why the cheese business?
"We have the space to do it, and there's been a demand for people to learn how to make cheese," Dzurec says.
"There are a lot of people in Connecticut and New England who want to make their own cheese. Several dairy farmers have expressed interest in making cheese from their cow's milk. There really isn't anyone in southern New England who regularly teaches cheese making courses, and we're going to be doing that."
He is also proposing a general course for students in dairy technology that would cover the making of ice cream, cheese, and yogurt, as well as pasteurization.
Dzurec, who teaches a three-day short course on ice-cream making to the public, says the dairy bar "not only provides ice cream, it's also an educational and outreach resource for people who want to learn how to make dairy products."
UConn's ice cream and cheese plant is regularly inspected by the state Departments of Agriculture and Consumer Protection.
"We're a legal commercial dairy processing plant," Dzurec says. "We always beat the standards."
The dairy bar is open year-round, from 11 a.m.
The closing time is 5 p.m., December through February; 6 p.m. in March; 7 p.m. in April and May; 8 p.m. June through September; 7 p.m. in October; and 6 p.m. in November.