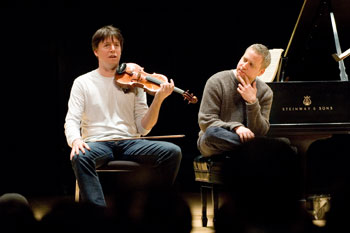 Violinist Joshua Bell, left, and pianist Jeremy Denk discuss the art of performance with students and faculty at von der Mehden Recital Hall during a master class on Jan. 30.
Photo by Peter Morenus
February 5, 2007 ¦ Volume 25, No. 19

Trustees authorize replacement of unversity hospital
The University's Board of Trustees has authorized construction of a new 352-bed hospital to replace and expand the Health Center's John Dempsey Hospital, setting in motion a major modernization and transformation of the university hospital. Read more...
Distinguished professors named
Michael Neumann, professor and head of the mathematics department, John Salamone, professor of psychology, and Sandra Weller, professor and chair of molecular, microbial and structural biology at the Health Center, were named Distinguished Professors by the Board of Trustees at its meeting last week. Read more...
Separate graduation ceremonies planned for three schools
The schools of education, pharmacy, and fine arts in May will have individual commencement ceremonies, as the University takes a first, tenuous step away from the two massive ceremonies it has convened for decades. Read more...
Ortega to head new international living/learning community
Isaac "Morty" Ortega, an associate professor of wildlife ecology in the Department of Natural Resources Management and Engineering, has been named director of UConn's new global living/learning community. Read more...