Colleagues and co-workers by day, artists and performers by night, Health Center employees shared their artistic talents in a recent exhibit, Art, An Expression of Diversity.
The day-long show drew nearly 40 participants and a steady flow of attendees.
"This is the third such exhibition, and I'm amazed to see that the show always tops itself," says Sandy Kressner, education and development specialist in human resources at the Health Center, who coordinated the event.
"I saw many smiling faces and heard lots of 'oohs and ahs.' The exhibits and performances were dazzling."
Librarian Albert Richetelle, who creates collages, says he gets "a kick out it. It's great to get together with other artistic people. You don't necessarily know who they are. We shared ideas."
Frank Barton, a television production specialist in video communications, says the exhibit attracted "a wonderful cross-section of employees" from different departments and students from the medical and dental schools.
"I saw of a side of the people I pass in the hallways every day but had no idea of the extraordinary things they did during their time off," he says.
Items on display included paintings, sculpture, jewelry, needlework, greeting cards, and photographs. Performances included songs and instrumental music.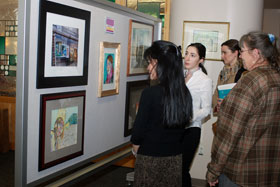 Faculty, staff, and students at the Health Center turned out to view a recent exhibit of works by their colleagues, Art, An Expression of Diversity. From left, Tina Liang, Polina Scherbatov, Nikolina Arthur, and Sue Donohue.
Photo by Janine Gelineau
Some of the new and unusual exhibits included photographs taken by children worldwide, initiated and compiled by Barbara Case, an administrative program assistant in community medicine and health care; a computer collage by Subhasis Chattopadhyay, a postdoctoral fellow in immunology; classical Persian drum music played by dental student Ashkan Fahandejsaadi; and furniture by Robert Trestman, a clinical professor of psychiatry.
Dr. Peter Deckers, executive director for health affairs and medical school dean, encouraged staff to attend, speak with participants, and view the artistic displays to show support for the ongoing efforts to promote cross-cultural understanding and appreciation.
"This was the first time I had gone, and I enjoyed the different types of mediums," says Anthony Angelo, a graduate student in clinical engineering.
"I didn't know the Health Center had this kind of program. It's nice to show off employees' talents."
The exhibit was sponsored by the Health Center's Office of Diversity and Equity and UConn Pride.