Three UConn students have produced a documentary that will be shown later this month on the nation's only minority-owned cable network.
Julie Amenta, Pauley Chea, and Brandon Cardwell teamed up in the fall to film UConn physics professor Ronald Mallett, who believes it's possible to travel through time and has written a book to explain his ideas.
Mallett has been featured in various print and electronic media and has been in demand as a speaker at book-signing events.
His book includes a blueprint for a time machine.
The Atlanta-based Black Family Channel, whose network reaches more than 20 million homes nationally, selected the students' video from among dozens of entries from across the country to debut in a new show called urTV (Urban Reporters Television).
The idea behind the program is to invite university students to pick up a camera, conduct interviews, and edit their own videos of stories ignored by the mainstream media, says Amani Channel, anchor/host of the new show.
The approach is called "'citizen journalism,' and the premise is that news content needs to be democratized, giving everyone a chance to tell a story that might otherwise be ignored," Channel says.
"From the civil rights movement to the Rodney King beating and most recently Hurricane Katrina, we've seen how video tells its own story."
Amenta, a sophomore from Wallingford who is thinking about a career in the television industry, says she likes the idea of citizen journalism, as it gives people a voice on issues they decide are newsworthy.
"The idea of time travel, for example, is not accepted by many," she says, adding that audiences for Mallett's presentations generally include a few skeptics.
"I can't see big news channels picking up the idea, although it definitely holds some merit. I think it says a lot that UConn accepts Dr. Mallett and his theories.
"We had free rein on this story and put a lot of time and effort into it," Amenta adds. "We were never bored because the idea is so interesting, and we learned a lot on the way, which made the experience that much greater."
Amenta who produces shows at UCTV - UConn's state-of-the-art student-run television station - served as the documentary's producer. She recruited colleagues from UCTV to help out: Pauley as cameraman and Cardwell to conduct on-camera interviews with Mallett.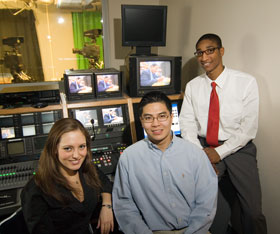 Julie Amenta, left, Pauley Chea, and Brandon Cardwell in the master control room at UCTV. The students have made a documentary about Professor Ronald Mallett's research on time travel.
Photo by Peter Morenus
Cardwell, a junior from Stamford who plans a career in film and television production, says he has doubts about the credibility of the mainstream media.
Working on the documentary gave him an opportunity "to ask questions without fear the answers would be edited. If knowledge is power, then in terms of having control in the media, 'citizen journalism' gives power to the people."
Chea, a pre-med sophomore from Waterbury who enjoys the technical aspects of television production, says that in citizen journalism, the contributors decide what is news.
He had heard Mallett speak in high school, and says he knew exactly how much science he wanted to highlight, even before filming began.
"In order to illustrate Mallett's theory, we wanted to make sure a general public audience was given enough information to grasp his idea without giving too many details to cause confusion," says Chea.
"On the other hand, his work is so intriguing that I knew many people would be interested in hearing 'how' his theory will be put into practice. Clips were chosen to appeal to those minds too."
Each of the three students said the experience taught them how time-consuming it is to put together a documentary: the hours of filming, editing, scripting, and interviewing required to produce even a short film, such as their four-minute video.
"It makes one appreciate the amount of work that is put into pieces produced by stations like PBS and Discovery," says Chea.
The students say they felt "greatly privileged" to work with Mallett.
"I learned that a simple conversation out of the classroom teaches you a great deal about a professor as a person, why they pursued their career, and why they are so passionate about their field," says Cardwell.
"After this experience, I'm going to make an extra effort to get to know all my professors."