Ruth Washington and Lee Aggison Jr. are on the front lines of a competition that Aggison likens to the nuclear arms race.
It's a stiff contest among major research universities for what many have found to be an elusive prize - minority graduate students in the sciences.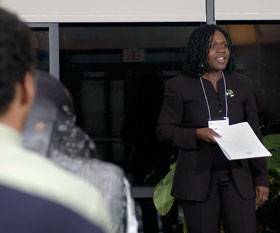 Ruth Washington, associate professor-in-residence of molecular and cell biology, encourages minority students to consider careers in science during the Science, Engineering, and Health Professions Collaborative Symposium.
Photo by Jordan Bender
Washington and Aggison, a married couple, are both associate professors-in-residence in molecular and cell biology in the College of Liberal Arts and Sciences.
They came to UConn last summer from Wiley College, a historically black college in Marshall, Texas.
"We feel extraordinarily lucky to have convinced Ruth and Lee to come to the University of Connecticut," says Philip Yeagle, professor and department head of molecular and cell biology.
"It is extremely difficult to recruit qualified minority faculty in the sciences."
Their mission here is to teach, conduct research, and find ways to attract students from traditionally underrepresented groups - African Americans, Latinos, Native Americans, and Pacific Islanders - into the science Ph.D. programs at UConn.
"We're both passionate about increasing diversity in the sciences," says Aggison.
So passionate, that when they both completed postdoctoral fellowships in biology at the University of Michigan, they went back to teach at their former HBCU (historically black college or university), Stillman College in Alabama, where they had earned their undergraduate degrees.
"The vast majority of African American students matriculate at HBCUs, but they rarely come back," Aggison says.
That's because many HBCUs lack a research infrastructure comparable to major research universities.
Faculty face a scarcity of start-up funding and the prospect of few colleagues doing research, says Washington.
While HBCUs are primarily undergraduate teaching institutions, she notes, they are rich in students who have the potential go on to earn Ph.D.s in the sciences.
The connections with students and faculty that Washington and Aggison have around the country are invaluable to UConn, says James Henkel, associate vice provost for research and graduate education and associate dean of the Graduate School.
"Basically, they've made a huge difference in moving diversity to the next level," he says.
The Graduate School aims for a healthy diversity across disciplines, Henkel adds.
Washington and Aggison are reaching out to students in all areas, even though their own concentration is in biology.
"These students are out there," says Washington.
An annual biomedical research conference for minority students in Anaheim, Calif., last November attracted more than 1,600 undergraduates.
"Everyone had 3.0+ GPAs, and most presented posters or talks about their own research," Washington says.
Minority students who have the potential to do research and earn a Ph.D. in science, however, often pursue an M.D. or a professional degree in engineering or nursing instead.
"A lot of minority students are not exposed to the process of getting a Ph.D.," Washington says.
They may be frightened by the years it takes, or think they have to put their lives on hold to complete the degree.
"We tell them, we had kids when we were in graduate school," she says.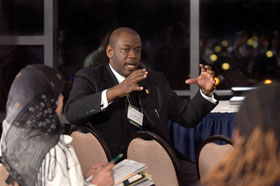 Lee Aggison Jr., associate professor-in-residence of molecular and cell biology, makes a presentation to minority students on "Why Get Your Ph.D."
Photo by Jordan Bender
The stereotype of the "mad scientist" spending long hours in the lab also can't compete with the perception that it's cool to be a medical doctor, she notes.
Washington had some of the same thoughts as a pre-med undergraduate student.
Then she participated in a summer research program at Purdue and saw not only how cool but how captivating a career in research could be.
"I fell in love with the actual hands-on part of research, and how smart the principal investigator was," she says. "You have to love knowledge."
Her research now focuses on mitochondrial population genetics and diseases, common human genetic variations, and the role of pericyte cells in the walls of small blood vessels in vascular injury.
She is also interested in health disparities.
Aggison, on the other hand, first thought he would be a biochemical engineer.
But his career choice was directed by his childhood background of loving science and reading the encyclopedias and science books that his parents collected.
Some of his research interests - in the cellular trafficking of renin, a protein in the kidney, and in analyzing how streptococcus affects cells in the cardiovascular system - involve biochemistry.
To attract minority graduate students, Aggison and Washington will expand a pilot summer research program they started last year.
They recruited six undergraduates from minority colleges in Texas and Alabama, pairing them with research investigators here for summer research and offering them many extracurricular activities to help them feel at home in Storrs.
They hosted a minority student recruitment weekend Jan. 19-21 at the Storrs campus, attracting more than 30 undergraduates from large and small colleges, including Duke, Morehouse, the University of Washington, North Carolina A & T, Jackson State, Stillman, and the University of Puerto Rico.
They are setting up a series of interdisciplinary seminars, using interactive video conferencing to connect researchers at UConn and five institutions serving minorities.
The objective is to promote partnerships that can lead to further collaborations in research and teaching.
"We hope their students come to UConn, but encouraging them to get Ph.D.s is the goal," says Washington.
The two are also meeting with UConn faculty, encouraging those with research grants from the National Science Foundation or the National Institutes of Health to take advantage of a grant supplement program that enables NSF and NIH grant holders to apply for extra funds to bring in minority students, postdocs, and faculty.
NIH supports salary and tuition, and offers funds toward supplies, travel, and fringe benefits.
Aggison and Washington also are available to offer personal support to minority graduate students.
Sometimes students need to know about the minority cultural centers on campus, Washington says.
Other times, they need to know where to get their hair supplies, where to shop, or what steps to take in their career.
"They want to have that sense of community," she says.
Students also need to know that tutoring is available if they are having problems in a subject because they were inadequately prepared, Aggison says.
Too often, minority students feel that is an additional stigma, and they won't ask for help in time.
"We tell them, let us know so we can put something in place for you."