For two hours, jazz legend Chick Corea jammed on drums and piano with students in the UConn Jazz Sextet, performed solo, and offered insights and advice to a large audience of music students from UConn and area high schools.
Master classes, such as the one with Corea on Jan. 27, enable students to gather informally with visiting artists.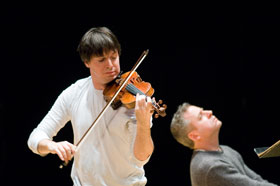 Violinist Joshua Bell and pianist Jeremy Denk during a January 30 master class at von der Mehden Recital Hall.
Photo by Peter Morenus
Provided through a collaboration in the School of Fine Arts between Jorgensen Center for the Performing Arts and the music department, master classes are among the rarified opportunities UConn music students have to observe, interact with, and sometimes perform with some of the world's greatest musicians.
Corea has received a staggering number of awards in many different genres, from fusion to classical piano, during a 40-year career as a performer and composer.
His honors include the 2006 Lifetime Achievement Award from the Ruhr Piano Festival in Germany.
After the class, bass player Mike Knox, a junior, reflected on learning from Corea.
"He definitely opened my mind as far as playing in a group," Knox said.
"Sometimes you focus so much on what you are playing that you forget what the others are doing. He forced me to stay with him - a great experience."
Saxophonist Tom Wise, a senior, said, "When he was on drums, he really stretched me. He's into complex rhythms. You couldn't go on autopilot. He was superimposing a different tempo, doing a poly-rhythmic activity that forced you to have your head into it every minute."
Theodore Arm, a classical violinist and professor of music, has toured with Corea as a member of the group Tashi.
"Chick is one of the most energetic and inspiring of all musicians," Arm said. "He has a compelling passion for music."
Corea was enthusiastic about the UConn jazz students.
"You sound great, man," he told them. "You make really good music and have really good timing."
Earl MacDonald, director of jazz studies at UConn, said the students who played during the master class measured up to the challenge.
"It's a pretty big deal," he said. "Corea is one of the greatest living piano players."
The UConn Jazz Sextet has won awards at the Elmhurst and Villanova jazz festivals.
During the Q&A session, Corea referred to the chemistry among musicians as "communication."
"The most important form of communication for the musician is performance," he said.
"Nobody is saying you can't play just for your own enjoyment in your personal practice room. Or that you can't write music and put it in the closet where nobody else will ever hear it. But I feel that you make music because you like doing it and you enjoy giving it to someone else."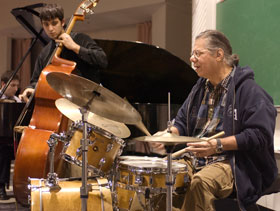 Jazz artist Chick Corea plays drums with Mike Knox on bass and other UConn students during a master class on January 27.
Photo by Jordan Bender
Convocations, mandatory, twice-a-week classes for music students featuring performances by students, faculty, and visiting guests, offer additional opportunities for students to perform and interact with and observe great artists.
"UConn's program addresses four aspects in the education of the complete musician," said Neal Larrabee, an associate professor of music and director of the convocation program.
"These are intellectual, physical, spiritual, and social.
"Music theory provides the foundation to analyze structures and forms," he said.
"Music history provides a perspective of how each musical style embeds itself in culture and reflects our humanity. Instrument or voice lessons teach the physical, technical craft, and encourage individuality and expression of the spirit. The sociability of music includes music education and live performance.
"This is where convocation is important," Larrabee added.
"Through performing, every musician experiences, tests, and executes their gifts."
Larrabee likens the musician's gift to a diamond whose brilliance can be brought out by mentors and teachers, but ultimately depends on the musician.
"It is during the live performance that the musical gifts have the opportunity to shine," he said.
"As students witness the performances of others, particularly those of the great artists that come to Jorgensen and appear on the convocation stage, they see a reflection in others of the uniqueness and worth they have within themselves."
This semester, students have the opportunity to learn from diverse artists performing at Jorgensen, including violinist Joshua Bell, who gave a well received master class on Jan. 30, and Chilean folk ensemble Inti-Illimani.
Bringing outstanding performers to campus is part of Jorgensen's mission of outreach.
The center for the performing arts serves more than 70,000 people a year, as well as enhancing the formal educational programs at UConn by providing opportunities for personal encounters between artists and students.
Rodney Rock, director of Jorgensen, has personal experience of the impact such encounters can have.
He has never forgotten how, when he was an undergraduate, a visiting soprano, Emma Kirkby, recognized a special quality in his tenor voice and helped guide him to sing music by composers such as Bach.
"For a music major, opportunities to interact with artists like Corea and Bell are magical," Rock said.
"Experiences like these remain with you for your entire life."