Isaac "Morty" Ortega, an associate professor of wildlife ecology in the Department of Natural Resources Management and Engineering, has been named director of UConn's new global living/learning community.
The living/learning community, to be known as Global House, will open in the fall.
A residential unit of up to 80 students, located in McMahon, Global House will bring together U.S. students interested in learning about global society and other cultures, and international students attending UConn.
"Being international myself," says Ortega, "this is close to my heart. I'm interested in creating a community that's more diverse, and more respectful of the international arena."
Ortega joined the UConn faculty in 1997. Originally from Chile, he earned his M.S. at Iowa State University and his Ph.D. at Texas Tech University.
He regularly takes groups of students to Patagonia, Chile, to do ecological research. He also teaches UConn students about African field ecology during three-week courses in South Africa.
Veronica Makowsky, vice provost for undergraduate education and instruction, says Ortega is well suited to the position, both because of his own experience as an international student, and as a faculty member who works with international students and with American students he's taken abroad.
"He has a deep commitment to international education and great enthusiasm for it, and the energy and drive to make it happen," she adds. "He's a man with a mission."
Makowsky says internationalization is a "major plank" of the Provost's new academic plan.
The global living/learning community was one of the recommendations of a task force created by the Provost to develop strategies to help UConn students develop a global outlook.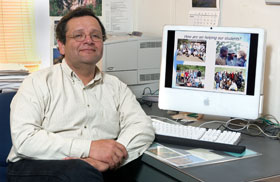 Morty Ortega, an associate professor of natural resources management, has been named director of Global House, scheduled to open this fall.
Photo by Jordan Bender
Global House will have a classroom where the students can take some of their classes, such as a one-credit course about international issues.
The community will also offer many extracurricular activities, including opportunities to practice foreign languages, enjoy international music, art, and movies, and sample international cuisine, as well as field trips, for example, to museums in New York.
Students will be encouraged to participate in other UConn programs, such as Study Abroad, undergraduate research, service learning, and internships with an international component.
Ortega says he plans to provide opportunities for international students studying at UConn to participate in the local community.
He hopes to involve host families - 'Friends of Global House' - who will invite students to their homes and help international students with transportation.
This semester, Ortega will work with the admissions office to recruit incoming students to Global House. It will be open to interested students at any stage in their UConn career, from freshman to senior.
He will also be involved in curriculum development, and plans to travel to Indiana University to observe its Global Village in operation.