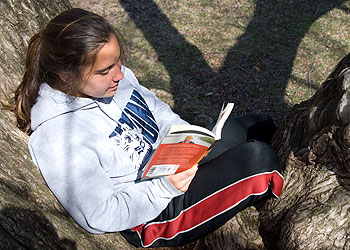 Allison Campitiello, a sophomore with a double major in English and journalism, sits in a tree by Mirror Lake.
Photo by Frank Dahlmeyer
News Links
April 14, 2008 ¦ Volume 26, No. 27
Mathematician appointed dean of liberal arts and sciences
Jeremy Teitelbaum, a mathematician and senior liberal arts and sciences administrator at the University of Illinois at Chicago, will join the University of Connecticut in August as the new dean of the College of Liberal Arts and Sciences. Read more...
New dean of social work hails from Iowa
Salome Raheim of the University of Iowa has been selected as the new dean of the School of Social Work, located at the Greater Hartford Campus. She will begin in August. Read more...
Speaker says advances in genetics pose new human rights challenges
A torrent of new information on human genetics could pose acute challenges to human rights in the near future, according to an expert in the history of medicine. Read more...
Wallace Stevens program to present poet Alice Fulton
Acclaimed poet Alice Fulton will read from her work during the 45th annual presentation of the Wallace Stevens Poetry Program on April 22 and 23. Read more...