Salome Raheim of the University of Iowa has been selected as the new dean of the School of Social Work, located at the Greater Hartford Campus. She will begin in August.
Raheim was previously senior associate to the president and director of the School of Social Work at Iowa, where she has been a professor of social work since 1997.
She has also held positions at Augustana College in South Dakota, the University of Sioux Falls, The State University of New York at Albany, and Bowie State College, and was a visiting professor at the University of South Australia.
"I am delighted and honored to join the University of Connecticut and its School of Social Work," says Raheim.
"The School's accomplishments in research and public service are impressive. There is a clear and strong commitment to promoting social and economic justice and improving human well-being. I look forward to working with the faculty, staff, and students to advance the school's contributions to social work practice statewide, nationally, and internationally."
Raheim recently served on the board of directors of the Council on Social Work Education (CSWE), the accrediting body for social work programs, among other leadership activities in the field.
She was chosen as the 2007 CSWE Carl A. Scott Memorial Lecturer for her contributions to social and economic justice.
"Salome has a national presence in the social work field and has served in several leadership capacities in social work organizations," says Peter Nicholls, provost and executive vice president of academic affairs.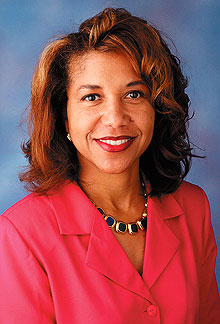 Salome Raheim.
Photo supplied by University of Iowa
"She brings to this position the energy, enthusiasm, and vision for the School of Social Work that will enable her to lead it to the next level of excellence. I am excited about this appointment."
A native of Baltimore, Md., Raheim received a bachelor's degree in social work from Bowie State, completed doctoral studies at The George Washington University, and received a master's degree from the Catholic University of America and a Ph.D. in communications studies from the University of Iowa.
Her research interests include cultural competence, social justice, human rights, social and economic development, and organization and community practice.
She began her career in 1976 as a psychiatric social worker in Prince George's County, Md.