Personal adjustment, social life, moving home, financial planning, career preparation, and other life skills are taught to UConn seniors in the Senior Year Experience (SYE) program.
The 10-week, one-credit course is designed to provide information and experiences to help seniors make a smooth transition as they move beyond college.
SYE works in collaboration with the Department of Career Services and other offices on campus.
"We want to help students succeed after graduation," says Daniel Doerr, director of SYE, "and we want to give them the support they need as they transition out of their senior year. We also want to celebrate and recognize their accomplishments as seniors."
The course is divided into lectures and discussions.
The discussion of career preparation covers writing resumes, applying for jobs, filling out applications for graduate school, and the interview process.
"We want to make sure that students know how to write resumes, what to expect at job interviews, how to start the job search, how to conduct informational interviews, and that they understand the value of networking," Doerr says.
"We address the personal money management and personal finance piece so they have exposure to budgeting, and an understanding of how they can start working on their long-term financial security. We also teach them about insurance and banking options, as well as assessing the financial packages that come with job offers."
Lectures are generally given by guest speakers, often from industry, or by a staff member from UConn's Career Services.
Discussions are led by UConn staff members and graduate students in the higher education and student affairs master's degree program.
The discussions are experiential and activity-based, says Doerr.
For example, students may practice networking by mingling at a mock "cocktail party," or develop 60-second "commercials" to practice marketing themselves.
"If we give them a chance to practice, it will help them when they're in that particular environment," he says.
Another activity requires students to conduct interviews with people in their field of interest, and then write up what they've learned.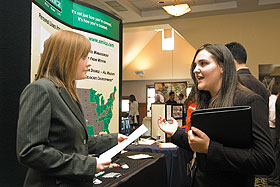 Angela Green, left, an Amica representative, talks to Nicole Newman, a senior majoring in finance, at the Just In Time Fair in Rome Ballroom. The fair, held in March, was sponsored and organized by the UConn Co-op, in collaboration with Senior Year Experience and other departments through the Senior Programming Committee.
Photo by Jessica Tommaselli
"It gives them a chance to practice doing an interview, and also gives them a better understanding of the particular field they're interested in pursuing," Doerr says.
The final written assignment requires students to reflect on their undergraduate experience, how they acquired the skills they have, and how that will help them be successful in the future.
"That helps them make some meaning of their undergraduate experience," Doerr says.
"They reflect on how their time here has helped them grow personally, professionally, and intellectually."
Doerr says another important component of SYE is the programming outside the classroom. For example, "Countdown to Commencement," a combination information fair and celebration, reaches students in a broad way, he says.
Students can have lunch, and pick up information at resource tables run by the UConn bursar's, registrar's, financial aid, alumni, and career services offices.
"It's also a great place for students to mingle," Doerr adds.
Beth Shapiro Settje, a counselor in career services, is also a discussion leader.
"I try to do activities that encourage students to share their opinions and to answer each other's questions," she says.
"They're hearing from their peers, and they're learning that their thoughts and feelings are not isolated. They're also learning that the career services office offers a lot of different resources."
Discussion leader Conor O'Rourke, a graduate student in the higher education and student affairs master's degree program, says an exercise in budgeting was an eye-opener for students.
"In college, most students don't pay rent, utilities, or insurance, or have to dress up to meet clients," he says, "so some students were surprised to find out how expensive it is to live outside of the college world."