A recent study sponsored by the Teachers for a New Era (TNE) program shows that an overwhelming majority of graduates from the Neag School of Education stay in the classroom for 10 years or more, and in far greater numbers than their colleagues nationwide.
"This study tells us in a powerful way that when teachers are given high quality, rigorous preparation such as they experience at the Neag School, they are more successful in meeting the diverse challenges of today's classrooms," says Richard Schwab, dean of the Neag School and a member of the National Commission on Teaching and America's Future.
"Their commitment to teaching remains at a high level for a long time and, most important, they stay in the profession," he adds.
Scott Brown, a professor of educational psychology and director of TNE, adds, "We see our five-year program as the key to that high level of commitment and teacher retention."
Using data from the Connecticut State Department of Education, the study looked at more than 66,000 teachers who were working in Connecticut between 1994 and 2005.
The group included 1,100 UConn graduates from either the Integrated Bachelor's/Master's program or the Teacher Certification Program for College Graduates in the Neag School of Education.
Seventy-three percent of them were still classroom teachers in Connecticut 10 years after graduating from these programs. Among the non-UConn graduates in the sample group, just 58 percent were still teaching after 10 years.
A national average for the 10-year time frame is harder to ascertain, because data is difficult to obtain. For a five-year period, the retention average nationally is roughly 50 percent.
The second part of the study consisted of a questionnaire sent to more than 1,400 UConn education graduates from roughly the same time frame, 1994 to 2005.
Eighty-one percent of respondents who stayed in teaching indicated that they did so because they enjoyed working with students and felt a sense of accomplishment and satisfaction in helping them learn.
Those who left cited "burnout," as well as "changing career interests."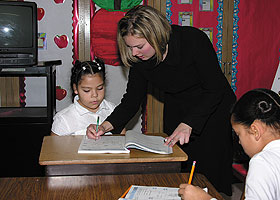 Brittany Richard, a 2006 teacher education graduate, is a special education inclusion teacher for Grades 3 and 4 at Batchelder Elementary School in Hartford. Here she is coaching Reyna Sanabria, while Samantha Ramos works on a paper.
Photo by Janice Palmer
Schwab, who has written extensively about job stress, says schools can head off burnout by continuing to be "vibrant learning communities, with leaders who reinforce the importance of student achievement."
Brown credits TNE's tracking and support of its new teachers during their first two years of employment for helping them stay in the profession.
TNE sponsors workshops that deal with everything from coping with "Meet the Parents Night" to innovation in the classroom.
"We think of Neag graduates as change agents in the schools where they're hired," Brown says.
"While they have to be adaptable to the culture of their particular school setting, we also want them to be willing to try the new approaches they've learned during their preparation at the Neag School."
When a school is accepting of teachers' new ideas, Brown says, that can go a long way toward encouraging them to stay.
But Brown says longevity isn't the only thing that matters.
"I've seen 30-year-olds who are burned out in the classroom, and 50- and 60-year-olds with a high level of excitement and enthusiasm," he says.
"Time alone isn't the key. It's a teacher's passion for teaching and learning that keeps him or her working at and dedicated to the job every day."
The report, Who Stays and Who Leaves? A Study of Teacher Retention among University of Connecticut Neag School of Education Graduates by Xing Liu and Scott W. Brown, is at www.tne.uconn.edu.