Jeremy Teitelbaum, a mathematician and senior liberal arts and sciences administrator at the University of Illinois at Chicago, will join the University of Connecticut in August as the new dean of the College of Liberal Arts and Sciences.
Teitelbaum will replace Ross MacKinnon, who will retire this summer after leading the College for 12 years.
"We have recruited an outstanding new dean for the College," says Peter J. Nicholls, provost and executive vice president of academic affairs at UConn.
"Jeremy brings to this position energy, enthusiasm, and an exciting vision for the College of Liberal Arts and Sciences."
Teitelbaum currently is senior associate dean of the College of Liberal Arts and Sciences and professor of mathematics at the University of Illinois at Chicago (UIC), a diverse, urban, public research university.
He joined the mathematics faculty there in 1990 and at different times was associate dean for natural sciences, facilities, and academic programs before becoming senior associate dean in 2006.
"My experience tells me that public support and love for the University of Connecticut rests first on the quality and depth of the education that UConn's College of Liberal Arts and Sciences offers its undergraduates," said Teitelbaum.
"I see the opportunity to lead a liberal arts college as distinguished as that at UConn as the chance of a lifetime."
At UIC, Teitelbaum is responsible for budgets and recruitment and retention of faculty. He has overseen innovations in teaching, such as the creation of the Mathematical Sciences Learning Center, where students receive peer tutoring.
He is a co-investigator on a National Science Foundation grant that is designed to increase the number of minority students seeking degrees in technical fields such as math, science, and engineering.
He also has worked toward increasing faculty diversity, introducing measures to broaden hiring searches and to support the appointment of women in science and technical fields.
His mathematics research is in number theory, one of the ancient branches of pure mathematics that often concerns the prime numbers.
He has worked jointly with mathematics professor Peter Schneider of the University of Muenster, Germany, in the area of p-adic geometry, or analyzing the properties of systems of equations "near" a particular prime number.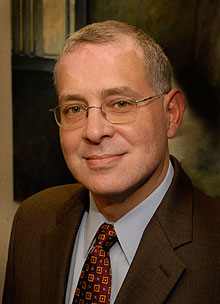 Jeremy Teitelbaum will join the University as dean of CLAS in August.
Photo by Kathryn Marchetti/UIC Photo Services
Before joining UConn in mid-August, he will give a series of lectures on this subject in Paris.
Teitelbaum also has been active in teacher development and mathematics education, working with math educators at UIC to teach professional development courses for Chicago public school teachers, and teaching number theory and the fundamentals of arithmetic to teachers.
A native of New York City who grew up in Denver, Colo., he earned a BA in mathematics summa cum laude from Carleton College, a small liberal arts institution in Northfield, Minn., and a Ph.D. in mathematics from Harvard University, where his thesis adviser was the number theorist John Tate.
He was on the faculty of the University of Michigan before joining UIC in 1990, where he is a tenured professor.
He has been a Sloan Research Fellow and a National Science Foundation Graduate Fellow and Postdoctoral Fellow, and has lectured and taught in China, Israel, and Germany.
His wife, Mona Teitelbaum, is a fourth grade teacher at Oliver Wendell Holmes School in Oak Park, Ill. Their daughter is a freshman at Williams College in Williamstown, Mass., and their son will graduate this year from Northwestern University in Evanston, Ill.
In announcing Teitelbaum's hiring, Nicholls thanked MacKinnon, who joined CLAS in 1996. "He has brought the College to a very high level of excellence in all its endeavors, and I know that we are all appreciative of this fact," Nicholls said.
A retirement reception for MacKinnon will be held April 23 from 4 to 6 p.m. at the UConn Foundation building.
MacKinnon will leave UConn at the end of June. In the interim, until Teitelbaum arrives on Aug. 15, Harry Frank, associate dean of CLAS and professor of chemistry, will assume the duties of dean.
Nicholls also thanked the search committee and its chair, Jeremy Paul, dean of the School of Law.
CLAS is the largest academic unit at the University, with 600 faculty, 23 departments, and more than 12,000 students. Nearly 75,000 UConn alumni are CLAS graduates.