Meerkats may soon be coming to a school near you – to help teach mathematics.
Not the ones on Animal Planet, but cartoon characters created by M. Katherine Gavin, Tutita Casa, and their colleagues, as part of a project to engage children's curiosity in learning geometry and measurement, and increase mathematics achievement.
Gavin, an associate professor in the Neag School of Education, is principal investigator and senior author of Project M2: Mentoring Young Mathematicians. Casa, an assistant professor in the Neag School of Education, is co-principal investigator.
Project M2 is funded by a five-year, $2.1 million grant from the National Science Foundation. It is designed for students in kindergarten through second grade.
It is an extension of Project M3, a series of 12 curriculum units for mathematically promising third, fourth, and fifth graders.
Gavin developed Project M3, along with Casa and colleagues including Linda Jensen Sheffield, Regents Professor of Mathematics Education at Northern Kentucky University, and Suzanne Chapin, an associate professor of mathematics education at Boston University. Project M2 is being devised by many of the same team.
Now in its sixth and final year, Project M3 uses content from the National Council of Teachers of Mathematics Standards, and teaching strategies from best practices in gifted education.
Project M2 will have two units per grade level, with each unit being four or five weeks long. That will enable students to develop a deeper understanding of math concepts, Gavin says, adding that a lot of math will be done in the context of scientific inquiry.
One of the units features two meerkat characters, Dru and Teller. The "detective duo" guide students through investigations such as simulated car crash tests with plastic eggs as passengers, and figuring out the amount of water they use while brushing their teeth – also a lesson in water conservation.
"A big piece of our project is students talking to each other about math as a community, not just answering questions posed by the teacher," Gavin says.
She adds that students will write about their mathematical adventures in a journal, and will be encouraged to share their mathematical reasoning with classmates.
"What we're trying to do is use the same kinds of high-end strategies to work with students across all socio-economic sectors and all ability levels," says Gavin.
"The goal is that these students will perform as well as our M3 students."
Mathematically talented students studying the M3 curriculum have outperformed control groups of similar ability students from the same schools on national standardized tests.
The U.S. curriculum is typically "a mile wide and an inch deep, meaning we try to cover about twice as many topics as the average country," Gavin says.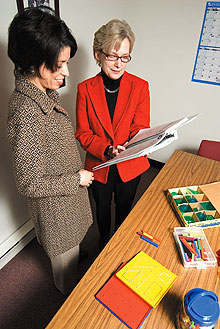 Katherine Gavin, right, associate professor, with Tutita Casa, an assistant professor, look over course-related materials for a math curriculum initiative known as Project M2.
Photo by Frank Dahlmeyer
She cites a 2004 Trends in International Math and Science study of 25 countries, in which American fourth graders ranked 17th in the world in geometry and 13th in measurement.
"The problem is that we're not starting children early enough in thinking deeply about math concepts," she says.
"We know young children have an interest in math and the world around them and come to school loving mathematics, but by third grade and as they move into higher levels, many have math anxiety – often because they have memorized formulas rather than understood the concepts."
Gavin says another goal of the grant is to target traditionally under-represented students. The researchers will field test mainly at-risk students at 12 schools nationally, in Connecticut, Texas, Kentucky, and South Carolina.
Grade 2 curriculum units are being piloted this year, and will be field-tested during the 2008-2009 school year; units for other grades will follow.
As a youngster, Gavin loved Latin as well as math, but chose math as a career.
She spent a couple of decades as a math teacher, before earning a doctorate at UConn in 1997 and becoming a math specialist at the Neag Center for Gifted Education and Talent Development.
She wrote the M3 grant proposal in the hope of inspiring young mathematicians and challenging them to learn at high levels.
The M3 project has garnered many awards since 2004, including ones from the National Association for Gifted Children for exemplary curriculum for gifted education.
M3 curriculum units have been purchased by schools in 43 states, as well as in Singapore, Japan, the Netherlands, and Canada.
M3 also has become part of some summer programs, as well as the centerpiece of an after-school math enrichment club in four Connecticut public schools that is funded by the Travelers Companies Inc. through the UConn Foundation.
Gavin is especially pleased by children's reactions to the curriculum.
"They're actually hugging their student math journals," she says, "and staying in during recess to play math games."