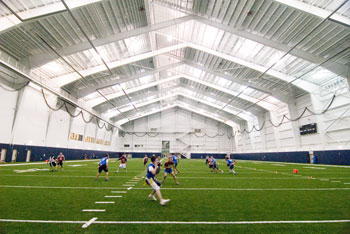 Students play intramural tag football at the Mark R. Shenkman Training Center, which opened earlier this semester.
Photo by Peter Morenus
November 28, 2006 ¦ Volume 25, No. 13

State gives $12 million to UConn for stem cell research
The University last week received 15 grant awards totaling more than $12 million of the nearly $20 million awarded by the Connecticut Stem Cell Research Advisory Committee to advance embryonic and human adult stem cell research in the state. Read more...
Trustees approve tuition, fee increases, discuss need for more faculty
The Board of Trustees on Nov. 14 approved tuition increases of about 5.6 percent a year for the 2008 and 2009 fiscal years. They said UConn remains excellent value, given the reasonable price and the high quality educational experience. Read more...
Panel: Despite Sheff v. O'Neill, school segregation has not eased
Ellen Ash Peters, the retired chief justice of the Connecticut Supreme Court and author of the 1996 Sheff v. O'Neill ruling that racial isolation in Hartford's schools was unconstitutional, let more than 100 people attending a symposium on the ruling in on a little secret: The court purposely left it up to the state legislature to implement change. Read more...
International financier to speak at December Commencement ceremony
UConn alumnus Robert E. Diamond Jr., president of Barclays PLC, will receive an honorary Doctor of Humane Letters degree and deliver the Commencement address on Dec. 17. Read more...
More headlines...

Of Note...

Faculty, staff, and members of the community are invited to take part in a Midnight Breakfast for students that will take place in the Student Union on Dec. 10-11.

The breakfast, which begins at 10:30 p.m. on Sunday, Dec. 10, and ends at 12:30 a.m. the next morning, provides food, live entertainment, and conversation for students studying for final exams.

The event, which has become an end-of-semester tradition at UConn, attracts several thousand students and hundreds of volunteers, and is one of the largest community-building events on campus.

Volunteers are asked to arrive at 10 p.m. in Student Union Room 303. To volunteer, call 486-3423 or send e-mail to Joshua.Brandfon@uconn.edu by Friday, Dec. 1.

RSS Feed of the UConn Advance