At first, Steven Yontef was hesitant about working in a graveyard.
"I had never spent any time at a cemetery except for attending funerals," he says.
But after a walk through an ancient graveyard, and an orientation session where he learned about burial patterns and gravestones, he was hooked: "I found myself intrigued by the history and the work I'd be doing."
Yontef, an urban studies major, is one of several UConn students earning independent studies credit for their work on a restoration project at Hartford's Ancient Burying Ground.
Kim Richardson and Jessica Piche-Grocki, who are both in the Bachelor of General Studies program, are also doing independent studies there.
They are working with volunteers from the Ancient Burying Ground Association a private, non-profit group that maintains the site.
The four-acre grave site, located at the corner of Main and Gold streets, is the oldest historic landmark in the city and Hartford's only surviving cemetery from the 1600s.
Burial there was allowed to anyone, regardless of race, ethnic background, economic status, or religious affiliation. About 6,000 people were buried at the site, but only 425 markers remain.
Student tasks include cross-checking the location of headstones with an existing plot map to note discrepancies between the map and what is actually in the graveyard, and entering the information into a new database.
"This is an exciting opportunity for our students and for the City of Hartford," says Laura Donorfio, an assistant professor of human development and family studies at the Tri-Campus.
"Students are getting hands-on experience, and the burial ground is getting help in chronicling its rich history."
Donorfio, who has a passion for cemetery art, initiated the partnership between UConn and the Ancient Burying Ground Association.
Yontef says he felt "a good energy" while walking around the cemetery.
"I thought to myself, 'When would I ever get a chance to do something as unusual as this?'"
He says he found many discrepancies when crosschecking the map with the gravestones, and learned much about the history of Connecticut.
"What I found most interesting was that the burial ground was public, and not for a specific religion," he says.
He enjoyed reading the inscriptions on the tombstones, and studying their carvings.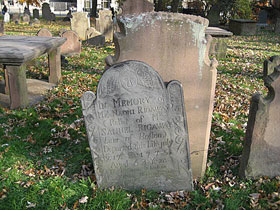 Gravestones in the Ancient Burying Ground in Hartford. UConn students are taking part in a restoration project at the site.
Photo by Sherry Fisher
Tombstones were the major form of sculpture in colonial New England, and many well-known carvers worked on them.
Richardson says her work at the graveyard complements her interest in Connecticut.
"I have always had an interest in local history, and this experience has given me an opportunity to find out why it is so important to preserve our graveyards and our history," she says.
"I have also learned that there is art in gravestones, and that it is important to get involved and contribute to the greater good."
She says there's a lot more work to be done there, including taking and scanning gravestone photos for a plot report and transcribing epitaphs.
"It's a great project," says Nicholas Bellantoni, Connecticut State Archeologist with the State Museum of Natural History and Connecticut Archaeology Center.
"These old cemeteries hold such wonderful history. To preserve a burial ground is important, and this project helps students to see that."
Tom Tryon, a volunteer with the burial ground association, welcomes the participation of UConn students.
"Cross-checking the data is a complex and time-consuming project," he says.
"As we go forward to improve the knowledge of the graveyard, we need to be confident that the information is correct for future projects."
There will be plenty of work for UConn students to do down the road.
Tryon says the association has undertaken a new project to centralize information in an electronic database.
The current inventory of known headstones, many printed surveys, and conservation repair reports are electronically scanned into the database.
There will be views of individual headstones by map and plot number, name, key dates, historical or architectural significance, and condition of the stone.
The database will also include information on stone cutters, historical notes, and genealogies.