The Health Center's John Dempsey Hospital has been recognized by CareScience, a company that provides care management services for hospitals, for superior outcomes in the use of angioplasty and stents to unblock narrowed coronary arteries in patients with heart attacks.
"The recognition reflects our constant focus on improving care to patients," says Dr. Bruce Liang, director of the Calhoun Cardiology Center.
Dempsey Hospital is one of 37 hospitals nationwide named a 2006 National Quality Leader in the treatment of heart attacks with percutaneous coronary intervention, which involves the use of angioplasty and stents.
A heart attack, technically called a myocardial infarction, occurs when an area of heart muscle dies or is permanently damaged because of an inadequate supply of oxygen.
During angioplasty, a balloon-tipped catheter is threaded into the artery, and the balloon is inflated to improve blood flow.
A stent, a small wire mesh metal tube, can be permanently inserted into the artery to prevent its narrowing again.
Angioplasty is considered a relatively low-risk, non-surgical procedure, compared with coronary artery bypass, in which a healthy artery or vein is used to bypass a blocked portion of the coronary artery.
Bypass surgery generally requires a hospital stay and several weeks' recovery.
"The care of acutely ill patients with myocardial infarction requires a dedicated, high quality and experienced team of health care providers," says Dr. Michael Azrin, interventional cardiologist and director of the catheterization lab.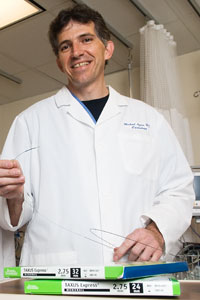 Cardiologist Dr. Michael Azrin at the catheterization lab at the Health Center.
Photo by Peter Morenus
"Fortunately, we have just such a team at the Health Center.
"Rapid response time is a crucial element in successful treatment of heart attack patients, he adds.
"Our team is prepared to respond 24 hours a day, seven days a week. It's a level of response that requires you to drop the paint brush and run out the door when the pager goes off. You don't stop and clean the brush first."
CareScience identified Dempsey Hospital as a 2006 National Quality Leader through its Select Practice Methodology, which uses both quality and efficiency measures to rank hospital performance.
The CareScience model for quality of care is measured by the incidence of three outcomes: mortality, morbidity, and complications, which are combined to rank a hospital's quality of care for patient populations with various health conditions.
Last year, the Health Center received high marks for its treatment of patients admitted for heart attack or heart failure on hospital performance data collected by the federal Department of Health and Human Services under a program called Hospital Compare, which is designed to improve hospital performance over time and give consumers a way to compare hospital quality.