"Money Makes the World Go Around" is one of the more memorable songs from the award-winning Kander and Ebb Broadway musical Cabaret, which is set in Berlin at the beginning of the rise of the Third Reich.
So perhaps it is fitting that when the Connecticut Repertory Theatre presents Cabaret Nov. 30 through Dec. 9 - the first time the dramatic arts department's professional producing arm will present a show as part of the Jorgensen Center for the Performing Arts' season - it will "turn the economy of such a production on its head," as Frank Mack, managing director of CRT, puts it.
Instead of hiring a Broadway touring company to perform a musical as part of its regular season, Jorgensen has hired CRT to do so, keeping all the revenues from the show within UConn arts institutions, Mack says.
The collaboration between CRT and Jorgensen also means that the show is being marketed to more than three times as many households as would ordinarily receive subscription brochures for a CRT production, without additional costs, Mack says.
Rodney Rock, director of Jorgensen, says the collaboration is a logical progression for the center, which has increasingly been partnering with other organizations within the School of Fine Arts for the past several years.
For instance, Jorgensen has invited the opera department to stage several productions for its Children's Series.
The center also funds an art and art history graduate student half-time to work as curator of the Jorgensen Gallery, and plans to present Firebird, a new puppetry production created by Bart Roccoberton, director of puppet arts, while on sabbatical leave last semester in Taiwan.
Rock also says the collaboration allows Jorgensen to fulfill a desire its patrons often express to once again see musicals included as part of its season.
Jorgensen no longer brings touring musicals to campus because of the physical limitations of its stage, including limited fly and wing space, Rock says.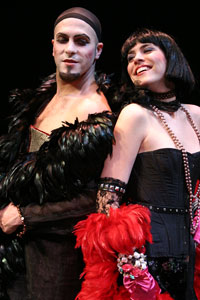 The cast of the joint CRT-Jorgensen production of Cabaret includes UConn students and several Equity actors.
Photo by Gerry Goodstein
Cabaret will be presented as a Jorgensen production and will take place in the Harriet S. Jorgensen Theatre on the Jorgensen's lower level.
Its cast will mix three veteran Broadway actors - including Scott Robertson, who will play Herr Schultz, the role he played in the last revival of Cabaret on Broadway at Studio 54 - with UConn advanced acting students.
The other Actors' Equity guest artists with Broadway credits to their name are Perry Ojeda, who plays the emcee of the Kit Kat Klub and also has appeared on many television soap operas and commercials; and Melinda Tanner, who plays Frau Schneider and also has numerous television appearances to her credit, including Law and Order.
Second-year master of fine arts student Lauretta Pope will play singer Sally Bowles (played by Liza Minnelli in the 1972 movie version), and third-year bachelor of fine arts student Michael Hanson will play writer Clifford Bradshaw.
The CRT production's creative team includes director and choreographer Karen Azenberg, who has experience working on a number of Broadway and Off-Broadway shows.
"This is a rather inventive way to provide an even wider area audience with quality, professional musical theatre," says Mack, "while at the same time saving costs."