UConn alumnus Robert E. Diamond Jr., president of Barclays PLC, will receive an honorary Doctor of Humane Letters degree and deliver the Commencement address on Dec. 17.
Nearly 900 students are expected to graduate in December.
The 2 p.m. ceremony will mark UConn's fourth mid-year commencement, the second to be held in the Harry A. Gampel Pavilion.
The number of students graduating during the December event has increased each year, from 642 in 2003 to 880 this year.
Diamond is president of Barclays PLC, a major global financial services provider involved in retail and commercial banking, credit cards, investment banking, and wealth management.
He became an executive director of the boards of Barclays PLC and Barclays Bank PLC in 2005.
He is also chief executive for the investment banking and investment management businesses comprising Barclays Capital, Barclays Global Investors, and Barclays Wealth Management. He joined the firm, which is based in London, in 1996.
Diamond, who grew up in Concord, Mass., attended Colby College before enrolling in UConn's School of Business in 1974.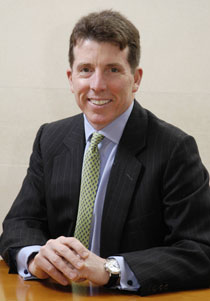 Robert E. Diamond Jr.
He earned a master's degree in business administration in 1977, graduating first in his class, and served as a lecturer during the 1976-77 academic year.
He joined Morgan Stanley after graduation, first in management information systems and later as assistant to the chief financial officer and head of a government bond division in London.
He joined Credit Suisse First Boston in 1992, serving as chairman, president, and CEO of Credit Suisse First Boston Pacific.
He was responsible for investment banking, equity, fixed income, and foreign exchange for the Pacific region.
During his career, Diamond has emphasized social responsibility, including support for education, people with disabilities, social inclusion, the environment, and the arts.
The Diamond Family Foundation provides significant philanthropic support to educational institutions and charitable organizations.