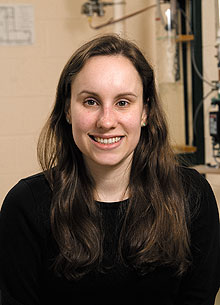 Alexandra Cooper, Engineering and CLAS. Photo by Frank Dahlmeyer
Alexandra Cooper
by Sherry Fisher
When Alexandra Cooper came to UConn, she knew exactly what she wanted to do: enter the Eurotech program and earn a dual degree in engineering and German.
Cooper will graduate next month from the program with a bachelor of science in chemical engineering from the School of Engineering and a bachelor of arts in German studies from the College of Liberal Arts and Sciences. She also has minors in mathematics and chemistry.
Cooper is an honors student, a member of the academic honor society Phi Beta Kappa and the engineering honor society Tau Beta Pi, and a 2008 New England Scholar. Her GPA is 3.8.
A violinist, Cooper performed with the UConn Symphony Orchestra for several years. She also plays the piano and flute – just for fun.
She welcomed the fact that she could pursue her many interests at UConn.
"I've really liked the different opportunities available here," she says. "I was able to study engineering, German, and music – all in one location. That's not something you can find everywhere. … At UConn, there are so many avenues you can explore."
Cooper says she enjoyed the faculty: "They are supportive, helpful, and accessible."
She also likes the diversity on campus.
"Being a state university, UConn attracts a wide range of people from different backgrounds and walks of life," says Cooper. "Had I gone to school someplace else, I might not have experienced that."
She says she met a variety of people through her academic and musical pursuits.
"People who are music majors are very different from engineering majors, and they, in turn, are different from German majors," she says. "I've really enjoyed meeting a mix of people, and I've made good friends."
Cooper was accepted to six graduate degree programs, all with full support. She has decided to attend Cornell University, where she'll pursue a doctoral degree in chemical engineering.
In the future, she hopes to combine working with computers with her chemical engineering background.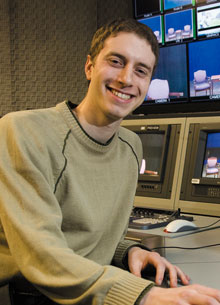 Benjamin Gruenbaum, CLAS. Photo by Daniel Buttrey
Benjamin Gruenbaum
by Cindy Weiss
Graduating senior Benjamin Gruenbaum plans to attend medical school. He has already tested his career choice.
He spent one summer during college as an emergency medical technician in Israel, as one of 40 students worldwide who were accepted into the Magen David Adom volunteer program.
He spent another summer as a fellow at Hartford Hospital, shadowing an anesthesiologist and observing a liver transplant, a heart transplant, and a Caesarian section delivery, among other things.
In between, the honors scholar and psychology major in the College of Liberal Arts and Sciences was a three-time Babbidge Scholar (consecutive semesters of perfect 4.0 grade point averages), and did an independent research project with psychology professor Etan Markus on navigation systems in the brain.
He also played intramural basketball, served as a Community Assistant in his residence hall for three years, and won a UConn video contest that inspired the University's 30-second commercial, "A Perfect Fit."
Benjamin's video skills also made him one of 10 national winners in the Association of American Medical Colleges' "Aspiring Docs" video contest.
And recently, he won the psychology department's William D. Orbison Award in Recognition of Excellence in Psychological Studies.
His adviser, psychology professor David B. Miller, says Gruenbaum is the most well-rounded individual of the more than 23,000 students that he has taught over the years.
Gruenbaum says he appreciates the opportunities he's had on campus. "UConn has really given me the opportunity to do so many cool things," he says.
"A lot of things, I just asked to do," he adds. Like helping to teach a Freshman Year Experience class in psychology, which he did for three semesters, winning the John T. Szarlan Memorial Outstanding Student Mentor Award.
In his spare time, when he's not in the lab or presenting a research poster or collecting hair donations for wigs for cancer patients, he likes to make short videos with special effects.
Gruenbaum was weighing his medical school choices at press time.
His award-winning video on why he wants to be a doctor can be seen on YouTube.
Jean-Paul Atallah, Business. Photo by Frank Dahlmeyer
Jean-Paul Atallah
by Sherry Fisher
Two of Jean-Paul Atallah's personal goals as a UConn student were to get involved and make a difference on campus.
A finance major in the School of Business, Atallah has done just that.
"Becoming involved in the Student Entrepreneurial Organization, now as president, has allowed me to help other students," he says. He is also actively involved in the Multicultural Business Society.
The Student Entrepreneurial Organization connects students with entrepreneurs from the region, such as the president of Munson's Chocolates.
"We want our members to learn from the local entrepreneurs' successes and failures," Atallah says. "We want them to learn about getting start-up capital, how they marketed their business, and other tips.
"When a student comes up to me and says, 'I loved that speaker,' or 'that field trip was amazing,' it makes me feel very good," he adds.
Atallah says running the Student Entrepreneurial Organization is like operating a small business: "We're engaged in human resources, because we interview candidates for officer positions. We charge dues because we have limited resources and have to stick to a budget. We also do event planning and marketing."
For the first time this year, the School of Business is giving its own senior class gift. As a member of the 2009 Senior Class Gift Subcommittee, Atallah worked with the technology office in the business school to design a web site where seniors could vote on possible class gifts.
Atallah, who has been working at the Bursar's office since his freshman year, began his college career studying engineering, but switched first to studying management in the business school, and then to finance.
"I did an internship at a financial advising company during the summer, and that sealed the deal for me," he says. "I knew that I wanted to become a financial advisor."
He has already accepted a position at a financial company in Wethersfield.
Atallah's advice to other students: "If you're going to do something, it has to be something that you love. If you start a business, you'll be spending 50, 60, or 70 hours a week at first. You really have to be committed."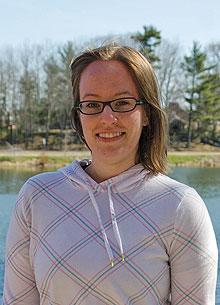 Jessica Newcomb, Nursing. Photo by Frank Dahlmeyer
Jessica Newcomb
by Sherry Fisher
Jessica Newcomb was a junior majoring in history when she decided to switch to nursing.
"I have a lot of interests," she says, "and even though I love history, I thought that nursing would be a better fit for me."
Newcomb, a student in the Honors Program, started to take her basic sciences courses and was hooked. "I hadn't taken many science courses in high school, and I found them very interesting," she says.
She says the opportunities at UConn are "amazing. There is a lot to do here and it's so accessible. I've always been involved in campus activities."
She took fencing, played the French horn in the University's concert band, and drove campus buses 20 hours a week.
How did she find time to keep up her academics – she has a 3.6 GPA – and participate in so many extracurricular activities?
"I like being busy," she says. "When I'm interested in something, as I have been here with my course work, it's not hard to do well. I'm really interested in what I'm learning, so it doesn't feel like work."
Prioritizing and setting goals helps, she adds: "You have to be organized."
Newcomb's capstone experience has been in Hartford Hospital's cardiac intensive care unit.
"I'm dealing a lot with families and assessment, which I find very satisfying," she says.
Her honors research involved working on a project with Patricia Neafsey, a professor of nursing and principal investigator at UConn's Center for Health, Intervention and Prevention.
She and another nursing student tested a computer-based education program to reduce adverse self-medication behaviors in people with hypertension.
"I've enjoyed working with Professor Neafsey," Newcomb says. "She's inspirational."
Newcomb has accepted a nursing position in the cardiac step-down unit at the Hospital of St. Raphael in New Haven.
Over a period of several weeks, the Advance is publishing short profiles of some of this year's graduating students. Those featured were selected from among those recommended by each school and college.