Fernando Alfonso
by Cindy Weiss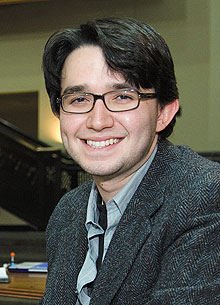 Fernando Alfonso III, CLAS. Photo by Daniel Buttrey
Fernando Alfonso III, a senior English major in the College of Liberal Arts and Sciences, will pursue a career that some would say is headed for extinction. Alfonso wants to be a staff writer at a newspaper.
But even as layoff notices at newspapers pile up, Alfonso is guaranteed a job.
He recently was awarded one of two Newhouse Graduate Newspaper Fellowships and Apprenticeships for Minorities. After he completes an 18-month master's degree program at the S.I. Newhouse School of Public Communications at Syracuse University, he will be placed in a professional apprenticeship at a Newhouse publication, earning a competitive entry-level journalist's salary.
Newhouse publishes The Post-Standard in Syracuse, where Alfonso will intern during his fellowship, and owns 35 other newspapers around the country. It is owned by Advance Publications, which publishes The New Yorker, Vanity Fair, and Condé Nast magazines, including Vogue and Wired.
Not a bad prospective career field for a 22-year-old writer, who came to UConn unsure of what career he wanted to pursue.
He did know that he wanted to major in English, however. After being placed in a writing internship at Hartford Magazine as part of the English Department's internship program, he "fell in love with the atmosphere of writing," as he describes it.
He pursued it with a vengeance.
He wrote a blog for University Communications, giving prospective students insights into what UConn is like. And he took a fiction writing independent study.
During a Study Abroad semester in London, Alfonso worked under the tutelage of former English professor and novelist Scott Bradfield. He tried his hand at screenplays and creative stories.
Last fall, he interned with the Hartford Courant's features department, where he contributed more than 30 stories to its entertainment guide. That was followed by another internship, still underway, at the Journal Inquirer newspaper in Manchester.
He also tried his hand at a first-person feature, volunteering to give blood for the first time and tell about it.
At Syracuse he will gain exposure to magazine, newspaper, and online journalism. And while he is veering toward hard news, his interests are broad.
Says Alfonso, "I like talking with people and writing their stories."
Meghan O'Leary
by Sherry Fisher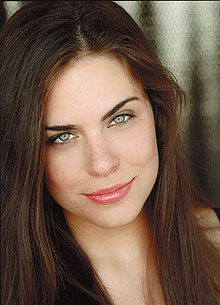 Meghan O'Leary, Fine Arts. Photo by Theo & Juliet Photography
Meghan O'Leary says her experience at UConn has been "more than any actor could ever ask for.
"There's a strong sense of community with your fellow actors, a sense of home with the Connecticut Repertory Theatre and you work with professionals in the business," says O'Leary, who is graduating in May with a bachelor of fine arts in acting. "The training is amazing."
O'Leary, who researched other New England schools that offered acting, says she chose UConn because the program worked in conjunction with CRT, a professional theater company.
"It has been a privilege to audition for CRT and get cast and work in main stage shows," she says.
"I've been fortunate enough to get cast quite a bit and it's great because we're allowed to join the equity membership candidacy program. Right now I'm in a position to join the union. I've gotten to work with professional directors and equity actors, and I have shows on my resume that are really powerful. I can go to New York with confidence."
She adds, "CRT isn't afraid to take artistic risks. Last year, we did Pentecost, one of my favorite shows. The majority of the play is in five or six different languages spoken in the Middle East. The fact that we did it here was great."
O'Leary has praise for the faculty. "They all have wonderful histories," she says. "They're wise, experienced, and offer excellent training."
She has also enjoyed the close-knit relationships among the students. "We're a little community and we're all best friends," she says. "It's a wonderful support system."
O'Leary says she has also learned about the business side of being an actor. "It's show business and you have to understand that part of it," she says. "At UConn I've learned how to wear a business hat as well as an artistic hat."
As a recruitment contact for the dramatic arts department for two years, she was a liaison between prospective students and their parents, helping them through the application and audition process.
"When I came to UConn, a couple of the juniors and seniors at the time were the nicest people in the world to me, and I remembered that," she says. "I wanted to do for others what they had done for me."
O'Leary has been approached by a bi-coastal agency that has offered to represent her in the professional world of performance.
Krystyna Blakeslee
by Michael Kirk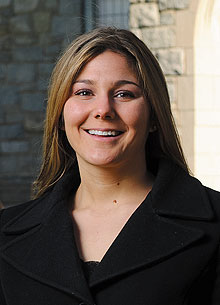 Krystyna Blakeslee, Law. Photo by Peter Morenus
After high school, Krystyna Marie Blakeslee enlisted in the United States Marine Corps and spent five months serving in Iraq in 2003. She now believes that the discipline, self-confidence, and perseverance she learned there played a big part in who she has become.
"I have always made an effort to take the chances that have come my way, and to continue to do that is probably one of my biggest challenges," says Blakeslee, who will graduate from the School of Law on May 17.
Blakeslee says her most rewarding experiences in law school were the opportunities she had to participate in the larger Hartford community. She volunteered for the Connecticut Unemployment Action Center, an organization that assists individuals of limited means who need help obtaining their unemployment benefits.
Blakeslee also worked with a faculty member to start the law school's Volunteer Domestic Assistance Information Program in the Hartford Family Court.
The program assists individuals of limited means who need information in order to fill out forms for a temporary restraining order or an uncontested divorce.
Additionally, she took advantage of the law school's many clinical programs, participating in both the tax clinic and the mediation clinic.
"Both of these clinical experiences were a valuable opportunity to help me develop my practical skills in different ways," she says.
In 2008-09, Blakeslee served as managing editor for the Connecticut Law Review.
"I had a tremendous experience as managing editor of the Law Review," she says. "I thoroughly enjoyed reading and editing articles, working with my peers and talking with authors."
She also developed strong public speaking skills through participating in mock trials and moot court competitions.
After graduation, Blakeslee will have a year-long position clerking for Judge Alan H.W. Shiff, a U.S. Bankruptcy Judge for the District of Connecticut. Following that clerkship, she will be an associate at the Hartford office of Dechert LLP.
"While I certainly have a vision for how I'd like my career to go," she says, "I also know that life does not always go as planned."
Shazia Chaudhry
by Sherry Fisher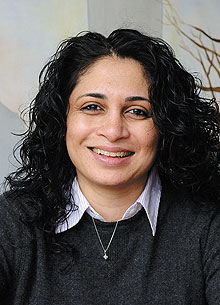 Shazia Chaudhry, Social Work. Photo by Peter Morenus
Shazia Chaudhry says the School of Social Work has been a perfect fit for her.
"I love the diverse community of students," says Chaudhry, who is graduating with an master of social work degree with a concentration in administration.
"The School is small, I've gotten to know people on a very personal level, and I've made lifelong connections. It's been an amazing experience."
She says the faculty has been "phenomenal. There are so many professors who really care and who are passionate about what they teach. They have so much knowledge to share, and give so much of themselves. I have really enjoyed that."
She says her experience at the School of Social work has been far reaching.
"It's not just a degree that you're earning here," says Chaudhry, whose GPA is 4.0. "You're getting information that you really use and need. Some of the courses have been tough, but they're full of practical knowledge.
"An example is the internships," she says. "This year's internship has been incredible. I've been working in the Superintendent's Office of the Cheshire Public Schools and it has been dynamic, building on my administrative skills. I've absorbed so much."
Chaudhry, who has four young children of her own, is also working at a middle school as part of the internship.
She says the international social work courses are "amazing. The courses connect you on a global level. They're not just about our little worlds. There is so much we can do to build bridges across many communities. I like looking at the big picture, taking it out from the community, and looking at how you can effect change on a global level."
Chaudhry says the School has empowered her to do just that.
"The professors, courses, lectures, and other programs show you that what you're doing is meaningful and important."
For her excellent academic performance, service contributions, and future potential, Chaudhry has been awarded the 2009 School of Social Work Alumni Association Student Award. The award will be presented to her during a ceremony on May 9.
Over a period of several weeks, the Advance is publishing short profiles of some of this year's graduating students. Those featured were selected from among those recommended by each school and college.