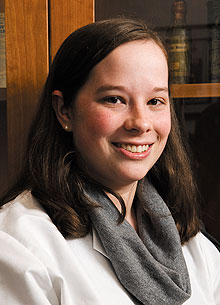 Amelia Arnold, Pharmacy. Photo by Frank Dahlmeyer
Amelia Arnold
by Sherry Fisher
Amelia Arnold says working as a clerk in her home town pharmacy sparked her interest in the field.
"I worked in a local pharmacy part time on Saturdays and I really loved it," says Arnold, who is graduating with a Pharm.D. degree, earned in a six-year program. "I knew the customers and I enjoyed the relationships that I built."
She says her experience in UConn's pharmacy program has been rewarding.
"It's a great, small, close-knit pharmacy community," says Arnold. "You get to know every faculty member and they know you, but you also have all the advantages of a large public research university."
Arnold has been actively involved in pharmacy programs and events at UConn. "There are so many wonderful opportunities here," she says. "There's something going on all the time."
Arnold, who is graduating with a 3.8 GPA, has been president of the student chapter of the National Consulting Pharmacists Association, president of the student leadership society Phi Lambda Sigma, and treasurer of the pharmacy honor society Rho Chi.
She has also been involved in the UConn chapter of the American Pharmacists Association and the Pharmacy Student Government.
She was also a community assistant on a pre-pharmacy floor learning community, where she was voted community assistant of the year. "I enjoyed mentoring and the opportunity to work with younger students," she says.
Arnold is pursuing a post-graduate residency in community pharmacy at Wilkes University in Pennsylvania. "That makes me unique compared to my peers, most of whom do residencies in hospitals," she says.
"I love working with people and this residency offered me the opportunity to work directly with the public."
Her future plans include working in a community-based pharmacy, where pharmacists counsel patients about medications, administer immunizations, and provide clinics and other services.
"More and more today, especially as the baby boomers age, people are realizing that pharmacists have incredible skills that are often underused," Arnold says.
"They can do so much more than just verifying prescriptions behind a counter. It could take days to see your doctor if you have a cold, but you can go to your pharmacist for information as well as medication. It's one of the most consistently trusted professions."
Sally Neal
by Sherry Fisher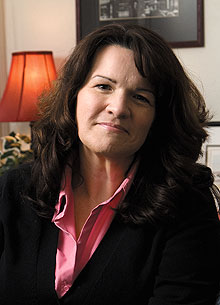 Sally Neal, Education. Photo by Frank Dahlmeyer
Sally Neal will never forget the last statistics exam she took during her senior year in college.
"On one side of the paper I was doing statistics calculations," she says. "On the other side, I was timing my contractions. My daughter was born a week later."
Her daughter is now 13, and Neal is graduating from UConn with a Ph.D. in adult learning from the Department of Educational Leadership in the Neag School of Education.
Neal, a first-generation college student, took her first college course when she was 31.
"Like many first-generation students, when we graduated from high school we either got a job or got married," she says.
She did both.
"I was working as an announcer at a radio station, had a two-year-old son, and had my mornings off," she says. "I decided to take some college classes and fell in love with education."
Neal has always worked full time while going to college. At UConn, she has been a secretary in the Dean of Students Office and a program assistant in the College of Liberal Arts and Sciences, and she is now the academic advisor for transfer students in the College.
"I've always been interested in nontraditional students," says Neal, who has dedicated herself to their support.
She was the recipient of the 2008-2009 UConn Undergraduate Student Government Advisor of the Year Award.
Neal's dissertation topic is "Successful female first-generation adult learners in an undergraduate environment."
She says the women in her study said that they returned to college for their children: "They knew intuitively that if they took care of their own education, their kids would be inspired to do the same. I felt a great kinship with the women in my study."
Neal says she feels "very lucky" to have found the Neag School's program in adult learning.
"Everyone wants to see you succeed," she says, "and they give you the tools, the resources, and the encouragement to do it."
She adds, "I love what I do and I hope that it has some impact on women who think that a college education isn't accessible to them."
At the May 10 Commencement ceremony, Neal is serving as a marshall for College of Liberal Arts and Sciences.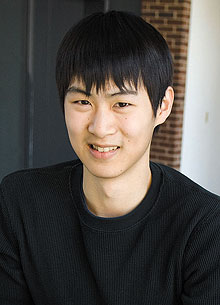 Aaron Lee, Liberal Arts and Sciences. Photo by Daniel Buttrey
Aaron Lee
by Eunice Omega, CLAS '10
Aaron Lee has always wanted to do two things: go to medical school and become an educator. Now he has the opportunity to do both. Lee has deferred his acceptance to the UConn School of Medicine, and will work for two years for Teach For America.
Lee, a biological sciences honors student in the College of Liberal Arts and Sciences, is one of eight UConn students selected this year for the highly competitive Teach For America, a non-profit organization that seeks to bridge the gap in educational equality by recruiting outstanding college graduates to teach in rural or urban schools.
He heard of the organization in high school and immediately connected to its mission.
"I almost feel obligated to spend part of my life doing something meaningful for the community," Lee says. "I want to make sure that everybody gets the education that they are expected to get."
Lee, who graduated as valedictorian of Plainville High School, is concerned about the achievement gap between students who attend schools in high-income communities and those educated in low-income communities.
"It just seems unfair that I have opportunities that other students don't have because I went to better schools than they did," he says. "As an individual and as a citizen, I feel that it would be selfish not to at least try to improve educational equality."
As an undergraduate, Lee has been engaged in two years of research in physiology and neurobiology.
With the help of Professor Akiko Nishiyama, he conducted research on the relationship between growing axons and the relatively recently discovered NG2 cell in the brain.
It is speculated that NG2 cells can repair axons that are damaged in certain pathological conditions such as multiple sclerosis.
Lee also worked for four years as the CLAS web master, building the College's web site and occasionally upgrading it. He also helped many CLAS departments and faculty design their sites.
After medical school, Lee hopes to combine science and teaching in a career in academic medicine. "Teaching at a medical school, you get the best of both worlds," he says. "I'd get to teach, do research, and see patients."
He will begin teaching this summer. After five weeks of training, he will be placed in the Baltimore, Md. school system, teaching secondary school biology. He plans to enter medical school in 2011.
Camille Patterson
by Sherry Fisher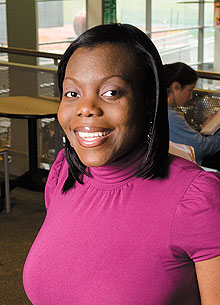 Camille Patterson, Liberal Arts and Sciences. Photo by Peter Morenus
Camille Patterson has made community service and leadership activities a big part of her UConn career.
A psychology and political science double major in the College of Liberal Arts and Sciences, she has been actively involved with programs through UConn's Community Outreach programs. She has volunteered with Food Share Inc. and has been a mentor with an after-school program for middle school students in Willimantic. Through the alternative breaks program, she built homes with Habitat for Humanity in Bridgeport.
"I found the community work very rewarding," Patterson says
. "I liked having the opportunity to step outside the university atmosphere and help individuals who are less fortunate."
After taking a First Year Experience course in leadership, and learning about the Peer Leadership Program, Patterson applied to become an instructor. She was accepted during her junior year and taught the leadership course for a semester.
Patterson was a Student Union representative to the University's Policy Council, and has been a Student Union building manager for two years.
She says participating in the University's Leadership Legacy Experience was inspirational.
"My experience there led to a great deal of personal development. Although we were all recognized as established leaders at the University, it was important that we didn't stop there. We were presented with opportunities to further develop our leadership skills."
Patterson spent her first six weeks on the Storrs campus attending a seven-credit summer program through Student Support Services.
The program, part of UConn's Center for Academic Programs, helps low-income and first-generation students adjust to college life. "The staff at CAP are a great resource," she says.
Patterson says UConn offers a perfect balance. "I feel that your college experience is 50 per cent academic and 50 per cent social. The University of Connecticut offers that. You're going to be challenged academically and you're going to blossom socially."
She adds, "So much is offered to you here, like clubs and different organizations. You can definitely graduate from here as a well-rounded person."
Patterson, who plans to go into entertainment law, has been accepted to several law schools.
Over a period of several weeks, the Advance is publishing short profiles of some of this year's graduating students. Those featured were selected from among those recommended by each school and college.