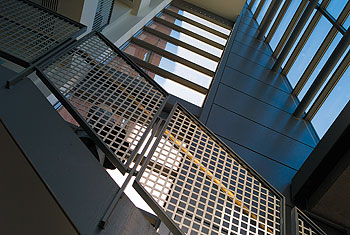 A view of the stairwell in the CLAS Building. Photo by Peter Morenus
Photo Extra
University President Michael Hogan speaks on 'The Future of the UConn Medical School,' during the Metro Hartford Alliance\'\s Rising Star Breakfast at The Bushnell on April 14. Photo by Peter Morenus
April 20, 2009 ¦ Volume 27, No. 28
Spring graduation speakers announced
Timothy Shriver, chairman and chief executive officer of Special Olympics, will deliver the commencement address to more than 2,500 students in the College of Liberal Arts and Sciences during graduation ceremonies May 10. Read more...
UConn 2000 bond issue highly popular with investors
Officials representing the University on April 16 closed on a $144.9 million bond sale for UConn 2000 projects in one of the most successful sales yet of UConn 2000 bonds. Read more...
Alert systems working well
The test of the University's Alert Notification System last week was very successful, with 88 percent of Storrs campus faculty, staff, and students saying they received notice of the test within 10 minutes. Read more...
Fire and building inspectors ensure safety of University structures
All University buildings are constantly checked to make sure they are safe for living and working, according to Robert Hudd, associate vice president for public and environmental safety. Read more...
More headlines...

Multimedia...

RSS Feed of the UConn Advance

News Links

UConn News | UConn Health Center News | UCONN Magazine Athletics News

How To...

Suggest a story idea: please send e-mail to advance@uconn.edu, with "Story Idea" in the subject line. Please give as much notice as possible, and at least two weeks. Requests will be considered based on relevance to a broad audience and the availability of resources.

Have an event listed in the Advance Calendar section: please enter it online at events.uconn.edu at least two weeks prior to the date of the event. Please note that the Advance Calendar contains only events occurring during the week beginning with the date of publication.

Request permission to re-use a story or photo: please send e-mail to advance@uconn.edu, with "Re-use Request" in the subject line.

Make a change to the mailing list, please send e-mail to advance@uconn.edu, with "mailing list update" in the subject line. Please note that the Advance does not maintain separate mailing lists, but uses the databases maintained by the human resources departments at Storrs and at the Health Center. If you do not have access to e-mail, please send your request in writing to Advance, University Communications, 34 North Eagleville Road, Storrs, CT 06269-3144, or by fax to 860-486-2063, or call 860-486-3530.