Chandrika Garner
by Chris DeFrancesco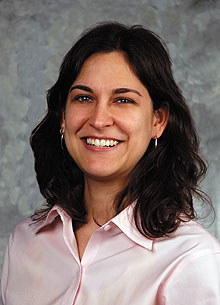 Chandrika Garner, Medicine. Photo by Janine Gelineau
Chandrika Garner is looking forward to her first "respectable" job.
Garner has been a full-time student almost her entire life. Now, at age 28, she's on the verge of leaving school—in this case, the UConn School of Medicine—with an M.D. to her name and a career as an anesthesiologist in her future.
Just don't tell her she's anywhere near done learning yet.
"Residency in large part is still an educational experience," Garner says. "And I really think to be a good physician you have to always be in an educational mindset. So in some ways I hope I never leave this place.
"But at least getting paid for it will be a nice change."
The first year, or clinical base year, of her residency will be in medicine at Yale-New Haven Hospital. She plans to return to the UConn Health Center for three years of residency training in anesthesiology.
Garner grew up with similar aspirations to those of her father, Dr. T.V. Rajan, a physician-scientist on the Health Center faculty.
"I always went back and forth between wanting to do research and being a doctor," Garner says. "In college, I decided that I wanted to do research, but after three years of graduate-level research, I decided that clinical medicine might be a better fit for me."
She graduated from the University of Chicago with a Bachelor of Arts in biological sciences. Before starting medical school she earned a master's in pharmaceutical sciences at UConn.
"Medical school is a pretty big time commitment, but here at UConn the faculty are so supportive," Garner says. "My family is right here, and I'm married, which I also think makes life a lot easier."
Garner believes the School of Medicine's Class of 2009 will be instrumental in changing the way American health care is delivered.
"I feel like there's so much that we've learned in the past four years here at UConn that I'm confident all of us are going to give back, and all of us are going to be great doctors," Garner says.
"Of course, I get a little nervous thinking about the fact that in a couple months I'm going to be the one writing the orders, but I really feel well prepared for it."
Sylvie Tchumtchoua
by Sherry Fisher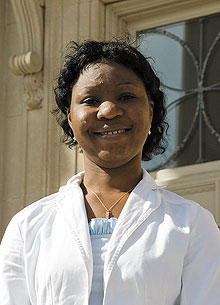 Sylvie Tchumtchoua, Agriculture & Natural Resources. Photo by Jessica Tommaselli
When Sylvie Tchumtchoua knew she would be studying at UConn, she had some concerns.
"I'm from Cameroon, and it was my first time studying outside my continent," says Tchumtchoua, who came to UConn in 2003 to earn a master's degree. "I was afraid I might not be able to meet the standard."
This month, she will graduate with a Ph.D. in agricultural and resource economics in the College of Agriculture and Natural Resources, with a 4.07 GPA.
Rigoberto Lopez, professor and head of the Department of Agricultural and Resource Economics, says Tchumtchoua is "the best graduate student I've met in at least a decade. Her ability to combine analytical skills with a keen sense of communication makes her an exceptional scholar, and she already has three published journal articles, with more under submission to top journal outlets."
He adds, "Her work provided the flawless statistical backbone on a multidisciplinary study we worked on together that assessed food security in Connecticut towns."
Tchumtchoua says she loves statistics. "I'm very quantitative," she says, "and I'm interested in statistical methods that apply to economics."
She praises the faculty for their encouragement and knowledge. "You know somebody cares about how you are doing," she says.
"The faculty follow up. If you're working on a paper, for example, they e-mail you and ask you how you are doing. I like that because you're just not left to yourself."
She adds, "The faculty are like family. There's no barrier between students and faculty members. I also like that they are really accessible."
Tchumtchoua, who says she has always enjoyed mathematics, will be staying at UConn to finish another Ph.D. next year – this time in statistics.
"If you gave me a book without formulas, I'd fall asleep right away," she says. "I love working with formulas, especially when you know that a crazy little formula can actually help solve a practical, real-life problem."
Her future plans include teaching and doing research.
Brian Bell
by Carolyn Pennington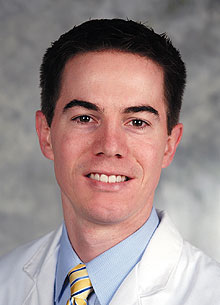 Brian Bell, Dental Medicine. Photo by Janine Gelineau
When Brian Bell was a young child, becoming a dentist hardly appealed to him. A career as a firefighter, astronaut, or professional athlete seemed more exciting than following in his father's footsteps and becoming a general dentist.
But by high school, Bell's attitude had changed. In fact, whenever his father received an emergency phone call at home from one of his patients, Bell beat his father to the door, with car keys in hand, enthusiastically accompanying him to the office and acting as his assistant.
"I'll always remember the patients – often with mouths swollen and in terrible pain – who were so gratified and relieved to have their problem taken care of," says Bell.
After high school, Bell attended Boston College and during summer breaks worked in his father's dental office. The exposure to day-to-day dentistry convinced him to apply to the UConn dental school, where he has excelled academically and been a leader.
Bell has been elected into the Omicron Kappa Upsilon National Dental Honor Society. He also received the Health Center's Dr. Gilbert LeVine Mellion and Ruth Berman Mellion Award for academic excellence.
Bell has been a class representative for three years, a clinic team leader, and served as a student member of the dental school's education council.
As a third-year student, he organized a trip to Belize, where students and faculty provided dental care to underserved children.
He also participated in the Connecticut Mission of Mercy, an event that involves hundreds of Connecticut dental professionals and student volunteers. During a single weekend, the volunteers collectively provide care to more than 1,000 patients.
It was these volunteer efforts, as well as his dental school clinical rotations, that demonstrated to Bell the diversity and allure of general dentistry. That's why Bell has decided to do a general practice residency at Hartford Hospital, rather than specializing.
"If I specialized, I feel like I would be missing something," he says. "I like providing comprehensive care to patients – a little bit of everything."
Adds Bell, "Each day I gain a new appreciation for the opportunities and experiences the field of dentistry will provide me."
David Blair
by Carolyn Pennington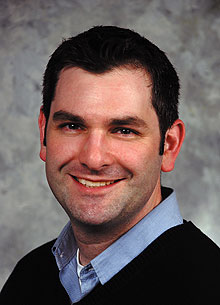 David Blair, Medicine. Photo by Janine Gelineau
It's fitting that David Blair has immersed himself in the field of immunology research. The 35-year-old Shelton native has first-hand experience of an immune system gone awry. He grew up with severe allergies and asthma, and has suffered from wheezing and shortness of breath most of his life.
"Since I was two or three years old, it seemed like I was allergic to everything – pollen, ragweed, dust," says Blair.
Even so, after receiving his undergraduate degree from UConn, studying immunology wasn't at the top of his list when he decided to come to the Health Center for graduate school. His top choices were cell biology and neuroscience, while immunology ranked at the bottom.
That changed when Blair did a rotation in an immunology lab. "It just clicked – I knew right away that I wanted to stick with immunology," he says.
"The more I learned about the immune system, the more I was intrigued at what an amazing, intricate biological process it is."
Blair spent the next five years researching the body's immune response against microbial infections. He zeroed in on a specific subset of T cells and tried to determine how they differentiate into long-lived memory cells that respond quickly upon infection.
"Our ultimate goal is to better understand some of the basic principles involved," he says, "which could lead to development of a vaccine or better therapies for fighting infection or, alternatively, inhibiting the response in autoimmune disorders."
Blair defended his dissertation in December and is currently doing post-doctoral work at New York University School of Medicine in New York City. He hopes ultimately to go into academia, so he can continue doing research but also start teaching and mentoring students.
He notes that it is basic science research that will help lead to much needed cures for diseases such as asthma.
Blair's own immunological tolerance has increased after years of allergy shots, so he can now enjoy his two favorite pastimes – tennis and mountain biking – nearly inhaler-free.
He is well aware that his research could provide a piece of the puzzle that will some day lead to a vaccine or cure for the increasing number of people being diagnosed with allergies and asthma. Says Blair, "It would be extremely rewarding to see my findings in the lab used clinically to help people live better lives."
Over a period of several weeks, the Advance is publishing short profiles of some of this year's graduating students. Those featured were selected from among those recommended by each school and college.