A new book by Margo Machida explores the work of contemporary Asian American visual artists.
An associate professor of art history and Asian American Studies, Machida has written Unsettled Visions: Contemporary Asian American Artists and the Social Imaginary, published by Duke University Press.
"Unsettled Visions grew out of my involvement with contemporary Asian American art and artists' groups over several decades," says Machida, a curator, writer, and activist scholar.
"I examine how these Asian American artists conceptualize the world and position themselves as cultural and historical subjects through the language of visual art," she says. "I think of art as being a social product, coming out of lived experience and peoples' times and their relationship to those times. That's foundational to the kind of research I do."
Pioneering role
Machida's interest in Asian American art blossomed in the 1970's, when she was living in New York's Chinatown.
"There was a flood of Asian migration, and the Asian American cultural movement was growing," she says. "I started to write about Asian American art and began to curate shows. One thing led to another. It's a long and complex history."
She says that her work as a curator and her writing, teaching, and historical research on Asian American visual culture are all inter-connected: "They feed one another, and this book is the result of all my interests over the years."
In addition to the publication of her new book this year, Machida has been honored for her significant academic achievements: She was one of five recipients in the nation awarded a prestigious Women's Caucus for Art Lifetime Achievement Award, given in conjunction with the College Art Association's annual conference in February.
She was recognized for her pioneering role in defining the field of Asian American Art and visual culture.
Shifting identities
Machida's research for the Unsettled Visions book included extensive interviews with 10 artists.
"We co-interpreted their art and I analyzed and compared the raw material from the interviews," she says.
"I began to notice common themes, certain ideas that catalyzed their work. Then I compared different artists' works. What unfolds is a rich picture of life experiences that are often quite different in terms of being an Asian American in this culture."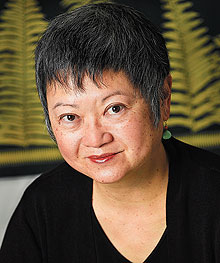 Margo Machida, an associate professor of art and art history and Asian American studies, in her office. Photo by Bruce Myren
Some of the artists are immigrants or refugees; others are fourth, fifth, and sixth-generation Asian Americans.
"What's interesting is that these artists' sense of Asian American identity is not fixed in any particular way," she says.
"Their conceptions of identity shifted continually over time and in relation to changing conditions, and that became a major premise of the book. There isn't any particular idea about identity that necessarily defines Asian American consciousness."
Social themes
Machida says the book is divided into three thematic chapters: representations of the other; social memory and trauma; and migration, diaspora, and sense of place.
The book focuses on artworks produced during the watershed period of the 1990s.
"By that time, new migration from Asia and global Asian diasporas, precipitated by the change in federal immigration laws in 1965, had transformed the demographic and cultural contours of Asian America," she says.
"The Asian immigrant population eclipsed those who were American-born. There was a growing influence of Asian nations and things Asian. And the growing presence of foreign-born Asian artists was beginning to have a marked impact on the American art world."
She says the book, which is extensively illustrated with color plates, is one of the first books of its length that deals with social themes in contemporary Asian American art and visual culture.
"I think it will expose people to images they haven't seen," she says.
"On another level, because it does reveal the experiences and standpoints of different individuals of Asian background, it gives the reader some personal insight into the many and often very different life trajectories that have brought these artists to the present moment."