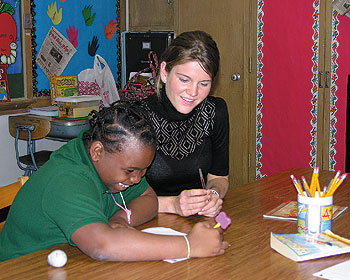 Teacher education student Kelsey Seddon, a junior in the Neag School of Education's integrated bachelor's/master program, works with Dahazia Stewart, a fourth-grader at Batchelder Elementary School in Hartford.
Photo by Janice Palmer
News Links
April 7, 2008 ¦ Volume 26, No. 26

Formal inauguration Sunday, April 13, 3 p.m., Jorgensen Center.
Neag School of Education ranked among nation's best
The Neag School of Education is not only the #1 public graduate school of education in the Northeast and on the East Coast, it is now ranked the 12th best among public universities nationwide and 21st among the 278 public and private graduate schools of education in the U.S., according to the latest review in U.S. News & World Report. Read more...
Chemistry student receives Goldwater Scholarship
Joseph Fournier, a sophomore majoring in chemistry who also plans to minor in physics and math, has been named a 2008 Goldwater Scholar. Read more...
Promotion, tenure forum scheduled for April 18
Faculty and administrators are encouraged to attend a forum on promotion, tenure, and reappointment (PTR) on Friday, April 18 in Shippee Dining Hall. The event is sponsored by the Faculty Standards Committee of the University Senate. . Read more...
An afternoon with New Yorker cartoonist at Konover Auditorium, April 20
Husband and wife Michael Maslin (SFA '76) and Liza Donnelly will discuss their careers as cartoonists at The New Yorker magazine and their life raising children and pets, and publishing books, in a program, "Our Lives and Hard Times." Read more...