For a street-wise, hip filmmaker, Spike Lee had some very traditional advice for college students in his recent talk at UConn.
Work hard. Get an education. Find out what you want to do, and do it. Money is not everything.
"It is the young people who are going to have to move this country forward," Lee said.
Lee delivered the keynote address at the end of a three-day conference on the Harlem Renaissance that was organized by the Institute of African American Studies.
Lee said that as a youngter, he dreamed of being a second baseman for the New York Mets.
But when he realized that filmmaking was his forte, he abandoned his dream to be a baseball player.
He had to work very hard at filmmaking, he said. That's the advice he gives students in the filmmaking class he teaches at New York University.
"It's not going to just happen," he said.
Lee described himself as an unmotivated college student in the 1970s, ending his sophomore year at Morehouse College in Atlanta with a C+ average and "taking up space."
His advisor warned him that he had to declare a major, because he had exhausted all of his electives.
He went home to Brooklyn in the summer of 1977, and using a video camera that someone had given to him, filmed what was happening – the New York City blackout, looting, and people terrorized by the "Son of Sam" serial murders.
The next fall, he declared a communications major. A faculty mentor encouraged him to turn his raw video footage into a story, and the resulting The Last Hustle in Brooklyn was his first film.
"That's when I decided I'd be a filmmaker," he said.
Many of his Morehouse classmates, first-generation college students, instead chose a profession that would guarantee them a job and ensure that their parents' investment in college would pay off.
"A lot of these cats chose a profession which did not bring joy to their heart," he said.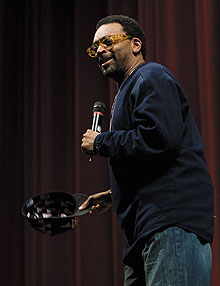 Filmmaker Spike Lee addresses an audience at Jorgensen Center for the Performing Arts March 29, part of a three-day conference on the Harlem Renaissance.
Photo by Frank Dahlmeyer
Although he does not blame parents for wanting their children to have more than they did, he said, "If you want to be happy, do what you love."
Lee said he was lucky, because he was raised in an artistic household. His grandmother taught art for 50 years in schools in Macon and Atlanta, Ga., but she never taught a white child because of Jim Crow segregation laws.
His grandmother, whose mother had been a slave, went to college; her daughter went to college; and her grandchildren went to college, he said.
"Education – that's who we are," he said of African Americans. "We knew somehow, education would be the tool for freeing us from bondage."
Lee said peer pressure is an obstacle to success: black students who get all A's are ostracized by those hanging out on the street corner.
In addition, he said, some black women go along with popular rap lyrics that are degrading to women, saying they don't apply to anyone they know.
"That's somebody's mother and somebody's sister," he said.
Lee's latest project, to be released next October, is a film about American Negro soldiers who fought in Italy in the U.S. Army's 92nd Division Infantry in World War II. Known as the Buffalo Soldiers, they were the first black forces to fight against the Nazis in Europe.
"I wanted to show how patriotic we've been for this country, despite everything that's gone on," he said.
Lee called for more public dialog about race: "We only discuss race every five years," he said, referring to the differing black and white perspectives on the O.J. Simpson trial and the recent controversy over the Rev. Dr. Jeremiah A. Wright Jr.'s sermons.