UConn faculty members working on a project to enhance educational and economic opportunities for women in Egypt have laid the groundwork for the creation of a women's center at an Egyptian university.
Three of them recently returned from a trip to Menoufia University, which partnered with UConn for the project.
The initiative was funded by a $200,000 grant awarded to UConn in 2005 by the U.S. State Department to develop a program of faculty exchanges and training focused on women in development.
In March, Elizabeth Mahan, associate executive director of the Office of International Affairs, Kathryn Libal, an anthropologist and assistant professor in the Department of Human Development and Family Studies and the School of Social Work, and Nancy Bull, associate dean of outreach and public service in the College of Agriculture and Natural Resources, conducted the third of three workshops at the university, which is about 44 miles north of Cairo.
Mahan, and Boris Bravo-Ureta, a professor of agricultural and resource economics and executive director of the Office of International Affairs, were co-principal investigators.
Other UConn participants were associate extension educator Joseph Bonelli and Teresa McDowell, former director of the marriage and family therapy master's and doctoral programs.
Mahan says the main purpose of the project was to "address a quite significant gender gap in Egypt … by building capacity at Menoufia University to incorporate a focus on women in the curriculum."
The first workshop, on women's rights and development, was held in November 2006.
It explored the interrelationships between women's rights and human rights, and the interdependency between social, economic, cultural, political, and civil rights and gender equality and justice.
During a second workshop in March 2007 on entrepreneurship, participants came up with a concept for producing and marketing frozen vegetables.
The third workshop examined ways for women to strengthen their families and communities through collaborative action.
Libal says many of the workshop components were contributed in Arabic by Menoufia University personnel and their contacts in local communities.
Bull and McDowell also helped facilitate discussion and dialogue, contributing to positive interactions between Menoufia faculty and representatives of non-governmental organizations (NGOs).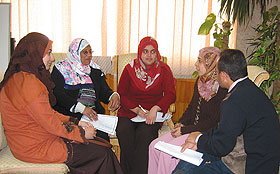 Women at Menoufia University in Egypt discuss ideas for the curriculum of a new women's center there. The discussion was part of a joint workshop between UConn and Menoufia University.
Photo by Nancy Bull
This helped further another project goal: to improve and expand the relationship between the university and NGOs, which play a pivotal role in development.
There have been other tangible results.
An NGO participant in last year's entrepreneurship workshop started a new venture, with women in his village making handbags. Other NGOs initiated micro-loan programs for budding businesswomen.
During the grant period, several Menoufia University faculty have visited UConn, including two assistant lecturers who are earning master's degrees in international studies.
Shymaa Ata is studying women's nutrition and development; Riham Moustafa is focusing on women, entrepreneurship, and development.
UConn also has benefited from the project.
Libal and Mahan, for example, prepared a special course to teach about women and development.
And the interdisciplinary approach has given UConn participants a chance to interact with faculty members from other departments.
Recently, the president of Menoufia University, Abbas Ali El-Hefnawy, announced his support for a new women's center on campus, which eventually may house a women in development master's degree program.
The UConn group intends to seek additional funding to continue the collaboration with their Egyptian counterparts.
"We'd like to make the new women's center a vital and active component of Menoufia University that connects to the community," Bull says, "and work to help strengthen ties between communities and universities in Egypt."