The Health Center is gearing up for the second annual CIGNA Jim Calhoun Cancer Challenge Ride.
The biking event, to benefit the Health Center's Carole and Ray Neag Comprehensive Cancer Center and Coaches vs. Cancer, a program of the American Cancer Society, will be held on June 8 in Simsbury.
The Calhoun Challenge Ride includes courses of 10, 25, and 50 miles, each of which covers a mix of flat and hilly terrain. The event will be led again this year by Jim Calhoun, who completed the 50-mile course during the inaugural ride in 2007.
"This is a great event that allows participants to challenge themselves on the biking course and challenge themselves to raise funds for a very worthwhile cause," says Joyce Fritz, a longtime Health Center employee and captain of one of the two Health Center teams, the Fritz Free Riders.
Fritz participated in last year's event and raised $700.
"I've always felt a need to help people. Riding in this event is a way all of us can pitch in and make the world a better place," says Fritz, who will train for the June event by logging an average of 50 miles per week on her bike, including riding to and from work once the weather eases up.
In the meantime, she is walking regularly, going to the gym, and taking yoga classes.
"Now is the time to take your bike to the shop for a tune-up," Fritz adds, noting that local bike shops get very busy once the spring weather arrives.
"Riders want to be ready to start training as soon as possible," she says.
Also in training now is Barbara Treadwell, a medical assistant in the Neag Comprehensive Cancer Center and captain of another Health Center team, the Treadwell Trekkers.
Treadwell also participated in the 2007 event, completing the 10-mile course.
She says she was motivated to ride because she sees every day how compassionate, skilled care can transform the lives of people with cancer.
What she didn't anticipate, however, was how the event would transform her life.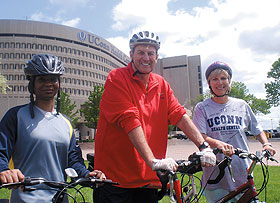 Dr. Lori Wilson, assistant professor of surgery, men's basketball coach Jim Calhoun, and Nancy Baccaro, a nurse practitioner, took part in a rally last spring to promote the Jim Calhoun Challenge Ride.
File photo by Janine Gelineau
"It really jump-started my fitness routine," says Treadwell, who has lost more than 40 pounds since the first ride.
The Health Center has set a goal of attracting a total of 300 people to ride with the two teams.
"You don't have to be a Health Center employee to ride with one of our teams," says Karen Tomasko, associate director of development, University of Connecticut Foundation Inc.
"In fact, we encourage people to ask their friends, family, and neighbors to ride with us."
Tomasko says the time to start talking to friends and family about this event is now: "You want to give people time to think about this and plan accordingly. People need to factor in time to prepare for the race, as well as time to collect pledges," she says, noting that all riders are expected to raise at least $200 in pledges and support.
Dr. Carolyn Runowicz, director of the Neag Comprehensive Cancer Center, says, "We'd like to see the entire community participate in some fashion.
"There are several ways people can support this event," Runowicz adds.
"While we'd love to see as many people ride with us as possible, people can also make donations or pledges for our riders."
More information about the Calhoun Challenge Ride and where you can join the Treadwell Trekkers or the Fritz Free Riders can be found on the Calhoun Challenge Run website.