The Health Center's annual Health, Safety and Environment Fair had an extra dimension this year: in addition to promoting staff and patient health and safety, the event was designed to educate staff on how they can contribute to the Health Center's efforts to "go green."
More than 1,000 people attended the fair March 28.
"It was a very successful fair with a larger than expected attendance," says Pam Miles, clinical practice manager with University Dentists and one of the fair organizers.
"The issue of environmental sustainability added another layer of interest and was a great way to build on our long-standing commitment to health and safety in the workplace."
Various booths offered information about biking to work, recycling at home and at work, limiting the use of paper, and reducing energy consumption. TechniArt was on hand selling a variety of energy-saving light bulbs.
Employees took advantage of the Shred-It truck by bringing in old tax forms, bank statements, and other sensitive documents.
They were able to watch their papers run through the shredder and be sorted for recycling.
During the previous month, employees had been bringing in their old sneakers in support of the Nike Reuse-a-Shoe program.
Collection bins were located at the entrances of all the buildings on campus and more than 1,500 pounds of used sneakers were donated, to be transported to Storrs to help build "Mt. Sneaker."
During the lunchtime program, employees heard presentations by speakers from organizations such as NuRide, the Farmington River Watershed Association, Just One Thing CT, CL& P, and RideShare.
"We hope that everyone is re-committed to making a difference in sustaining our environment, at home and at work, and is also re-dedicated to taking care of their personal well-being," says Patti Wawzyniecki, an industrial hygienist with the Office of Research Safety and one of the fair organizers.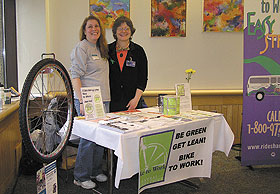 Joyce Fritz, left, and Connie Cantor staff a Bike to Work booth during the Health, Safety and Environment Fair at the Health Center March 28.
Photo by Andrés Sinisterra
The fair was part of a larger environmental effort by the Health Center. Last fall, the Environmental Sustainability Advisory Council was formed to help oversee environmental efforts on campus.
The Council is co-chaired by Dan Penney, associate vice president of facilities, with Rich Miller, the director of environmental policy at Storrs.
Penney says a number of environmentally friendly measures are underway: "As part of our commitment to environmental sustainability, we are now purchasing 12 percent of the Health Center's energy needs from renewable resources, and there is a major lighting project underway, replacing original lighting with lights activated by room sensors."
The Council is also working with Sodexho, the Health Center's food service company, to buy more locally grown food and to limit the number of plastic and disposable plates and utensils.
The custodial department is being encouraged to use more green cleaning products; and the grounds maintenance crews will be using more native and drought-tolerant plants in order to cut down on the need for watering.
The number of recycling bins throughout the Health Center campus has been increased, especially in the student areas. This has reduced the number of plastic – petroleum-based – garbage liners in office areas by nearly four thousand liners.
In addition, the housekeeping department is rolling out an educational program that focuses on regulated medical waste handling, Penney says, adding that the program will enhance staff safety as well as further reduce costs by an anticipated $40,000 in the coming year.