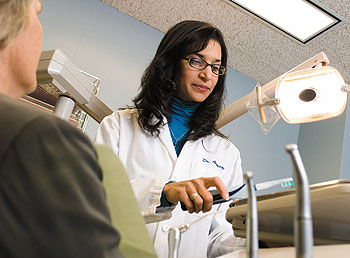 Dr. Sarita Arteaga, an assistant clinical professor of oral rehabilitation, biomaterials, and skeletal development, is president of the Hispanic Dental Association. The Association seeks to improve access to dental care for Latinos and recruit more Latinos to the profession of dentistry.
Photo by Al Ferreira
News Links
March 3 , 2008 ¦ Volume 26, No. 22
UConn dentist seeks to promote oral health for Latinos
As one of the few Hispanic dentists in Connecticut – indeed, in the country – Dr. Sarita Arteaga relishes her role as president of the Hispanic Dental Association. Read more...
Blumenthal suing for cost of law library repairs
Attorney General Richard Blumenthal announced Feb. 14 that his office is suing contractors, architects, suppliers, and others who built or helped build the library at the UConn School of Law in Hartford for construction, design, and other flaws. Read more...
Julias Elias, former dean, dies at 82
Julius Elias, a former dean of the College of Liberal Arts and Sciences, died Feb. 25. He was 82. Read more...
Research concludes many not helped by antidepressants
A study conducted by UConn psychology researchers and others has found that several commonly prescribed antidepressants provide little benefit for most people with depression. Read more...