English language learners often have trouble improving their vocabulary, leading to reading comprehension difficulties and problems with learning in all academic content areas.
Elizabeth Howard is among a group of researchers who think that teaching native Spanish speakers about cognates – words comparable across English and Spanish because of their common Greek or Latin roots – may facilitate the process.
Howard, an assistant professor of bilingual education in the Department of Curriculum and Instruction, is co-investigator of a four-year study exploring the use of cognates to promote vocabulary development and reading comprehension among native Spanish speaking adolescents.
The project, which received a $1.8 million grant from the federal Institute of Educational Sciences last year, expands on previous research by Howard, who has spent most of her career in bilingual literacy and language acquisition and development.
"One reason for focusing on cognates is that a high percentage of words in academic texts are cognates," she explains.
"It's essential for students to acquire both the technical vocabulary and other academic language as they move into the higher grades and are expected to learn increasingly demanding content in science, social studies, and mathematics."
The need to learn academic language in science has become more urgent, Howard adds, since science testing was added to "No Child Left Behind" assessments in the 2007-08 school year.
Another reason for the focus on cognates is that the Spanish counterparts of academic words in English are frequently common, everyday words in Spanish.
"The idea is, if you have kids who are native Spanish speakers – particularly those who are literate in Spanish – cognates may be a real leveraging point for them, to help bootstrap their learning of academic English," Howard says.
The study is being designed to test the effects of one cognate-based intervention, delivered in two different ways.
Both versions incorporate meaning-making activities to help students learn words in context, and structural analysis activities focusing on word parts.
Some students will learn words only in English, with no mention of cognates. Others will learn bilingually, studying the words in both English and Spanish with explicit references to their common roots.
The objective of both approaches is to promote the use of word learning strategies, and to stimulate an interest in words so kids can and will continue do it in on their own.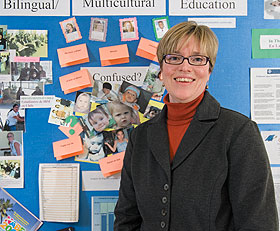 Elizabeth Howard, assistant professor of curriculum and instruction, specializes in bilingual education.
Photo by Frank Dahlmeyer
Howard says research by colleagues has already shown that learning cognates is an effective approach with upper elementary students.
What she hopes to discover among adolescent Spanish speakers is whether either of the specific interventions is effective, and if so, whether the effects vary depending on the students' educational backgrounds and Spanish proficiency levels.
A "foreign service baby" born in Venezuela, Howard lived on three continents, and was cared for by a German nanny.
"That kind of set the course for me," she says.
Howard majored in Spanish language and literature at the University of Maryland, then went to Costa Rica as a Peace Corps volunteer.
She earned a master's degree in educational psychology at the University of California-Berkeley, while working as a bilingual elementary teacher, and a doctorate in human development and psychology at the Harvard Graduate School of Education.
Before arriving at UConn in 2006, Howard spent nearly 10 years working at the Center for Applied Linguistics in Washington, D.C., where she concentrated on two-way immersion programs, in which native English speakers and speakers of another language are taught all subjects in both languages.
Howard and her co-investigators, including UConn colleague Betsy McCoach, are spending the first year of the study negotiating site selection, finalizing the research protocol, and developing curricular materials.
Data collection will begin in the fall, and will take two years.
Howard hopes the results of her research will be used to improve instruction for English language learners and to help all teachers work with a rapidly growing population of Spanish-speaking students.
"Over 70 percent of school districts in Connecticut serve English language learners," Howard says.
"Unfortunately, while their presence is increasing, their academic performance continues to lag behind. Learning more about how to work effectively with all English language learners should be a concern for all educators in Connecticut."