A study conducted by UConn psychology researchers and others has found that several commonly prescribed antidepressants provide little benefit for most people with depression.
The study was published Feb. 26 in the online journal PLoS Medicine.
It analyzed a large amount of data from 35 complete clinical trials submitted to the federal Food and Drug Administration (FDA) from 1987 to 1999.
The dataset, which included study results not before made public, was obtained from the FDA through a Freedom of Information Act request.
The analysis of the data from trials of four popular new-generation antidepressant drugs was conducted by two researchers from UConn's Center for Health, Intervention, and Prevention (CHIP): post-doctoral researcher Tania Huedo-Medina, and Blair Johnson, a professor of social psychology.
The study was led by Irving Kirsch, a psychology professor at Britain's University of Hull, who is a professor emeritus of clinical psychology at UConn. He retired in 2003.
The study relied on meta-analysis, which pools data from independent studies.
Before antidepressants – the most commonly prescribed class of drugs in the United States in 2006 – are approved for licensing by the FDA, they must undergo clinical trials.
These compare their ability to alleviate depression with the effects patients experience when taking a placebo. Neither the patients nor the researchers in the original studies knew who was receiving the drug and who the placebo.
Clinically significant improvement appeared only in studies of very highly depressed patients.
For studies involving people with less severe depression, the advantage of taking the drug was modest, and did not approach clinical significance, says Johnson.
Indeed, many people in the trials still exhibited high levels of depression even after taking the drugs.
One strength of the investigation was its use of complete data sets, including results that the drugs' manufacturers did not publish.
The clinical trials analyzed involved four selective serotonin reuptake inhibitors (SSRIs): the drugs fluoxetine (Prozac), venlafaxine (Effexor), nefrazodone (Serzone), and paroxetine (Paxil), which have been widely prescribed in the U.S.
The trials lasted from four to eight weeks and included 5,133 adult patients, of whom 3,292 were randomly chosen for medication and 1,841 received placebos.
Two drugs that were originally included in the study – citalopram (Celexa) and sertraline (Zoloft) – were ultimately excluded because the researchers were not able to obtain complete data sets.
The study showed that those who took the antidepressants did get a bit better. But those who took the dummy pills also got better – a phenomenon known as the placebo effect.
The placebo effect in the trials was exceptionally large, the authors found. On average, it was about 80 percent as large as the impact of the drugs.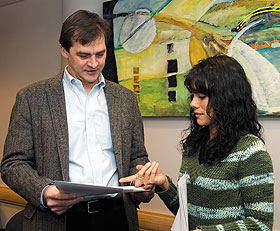 Blair Johnson, left, professor of psychology, with post-doctoral researcher Tania Huedo-Medina. The two were part of a research group that recently published a study on the efficacy of antidepressants.
Photo by Frank Dahlmeyer
For comparison, in trials of pain medication, the average placebo effect is about 50 percent as large as the effect of taking the genuine drug.
In the study, only samples of the most severely depressed patients showed clinically significant improvement on a scale that measures the severity of depression.
The authors found this improvement seemed to come about because these patients did not respond as well as less depressed patients to a placebo, rather than because they responded better to the drug.
"We find that the overall effect of new-generation antidepressant medications is below recommended criteria for clinical significance," the paper states.
"Given the large placebo effect we observed in our study, it would make sense for clinicians to exhaust other treatment options for depression before prescribing medication for all but the most severely depressed patients," Johnson says.
"Taking any medication, whether a real drug or not, provides a trigger for improvement, an expectancy of improvement," he adds.
Kirsch's previous research, much of it conducted at UConn, already had cast doubt on the effectiveness of new-generation antidepressants. The focus of this study was to determine whether patients' baseline severity of depression, as measured by professionals, affected their response to medication.
Kirsch tapped his former colleague Johnson, who specializes in studying social influence, to participate in his latest study because of his expertise in meta-analysis.
Johnson, a principal investigator with the Center for Health, Intervention, and Prevention and a member of its executive committee, has published 25 such studies in his 20-year career, and has numerous publications centering on the methods involved in meta-analysis, including software.
His Synthesis of HIV/AIDS Research Project, funded with $3 million in grants from the National Institutes of Health over the past decade, has directly supported 10 meta-analyses in the areas of HIV prevention, HIV risk behavior, and HIV medication adherence.
Huedo-Medina, who works with Johnson, is a post-doctoral researcher who focuses on quantitative methods, especially meta-analysis. She already has participated in four large-scale research synthesis projects.
The psychology department at UConn was recently ranked fifth in the nation in a National Science Foundation listing of the top institutions for psychology research, both in federal research expenditures and total research expenditures for 2006.