A $100,000 gift from the widow of one of the first faculty members at the School of Dental Medicine will carry on his legacy by supporting student scholarships.
Barbara Levine has made the endowed gift in memory of her late husband, Philip, a professor emeritus of oral biology who died in August 2006.
It will support academically outstanding second- and third-year dental students with demonstrated financial needs.
Dr. Levine was a decorated paratrooper and dental surgeon in World War II, as well as a practicing dentist and professor in the Boston area after the war. He was recruited to Farmington in 1967 to become a professor of dental medicine.
"Dean [Lewis] Fox knew Phil professionally, and at a conference said to him, 'You should come to Connecticut to see what we're planning.' Once Phil saw the plans for the Health Center, things moved quickly, and within three months, we had moved from Massachusetts to Connecticut and never regretted our decision," says Mrs. Levine.
The first class of students entered in 1968. Dr. Levine served as associate dean for student affairs, and later as acting dean. He retired in 1982.
"He gave so much of himself to the UConn Health Center," Mrs. Levine says. "Being there at the beginning was a very positive experience for him. He enjoyed his work very much, especially interacting with students and the community."
Mrs. Levine recalls days when students came to their home in West Hartford to meet with her husband, and also the long hours spent by Dr. Levine building relationships with dentists in the local community.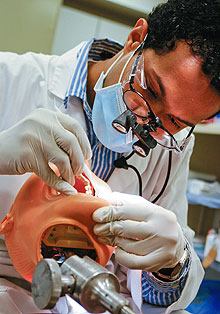 Dental student Gary Warner practices on a model at the Health Center.
Photo by Jordanna Hertz
Encouraging women to enter the field was a priority for him. He actively sought to increase female enrollment through recruiting videos for prospective students, highlighting the advantages of the field for women at the time.
When the first class was formed, there were no women in it; by the time he retired, about 25 percent of the class was female.
Mrs. Levine says her decision to fund scholarships with her gift felt like "the right thing to do," in light of her husband's dedication to dental students.
"Philip Levine's legacy of supporting students lives on today," says Dr. Monty MacNeil, dean of the School of Dental Medicine.
"Mrs. Levine's gift of scholarship support will allow us to attract and retain the next generation of dentists and researchers who have the skill to succeed but may lack the financial means to continue their education.
"We're very appreciative of what this means to the future of our entire field," MacNeil adds, "and it's especially meaningful coming in memory of someone who was here from the very beginning."
To support the School of Dental Medicine, please contact Catherine Gibbons-Way at 860.679.6034.