In summer 2005, a UConn chemistry professor joined a multinational research team on an icebreaker that made its way from Sweden to Barrow, Alaska, across the Canadian Arctic.
Today that same researcher, assistant professor Penny Vlahos, is again working to expand human knowledge of how pollutants travel, this time in a very different part of the world.
Vlahos and other UConn scientists are participating in an expedition in the Southern Ocean surrounding Antarctica, one of the harshest environments on earth.
Vlahos, a chemical oceanographer, is part of a UConn team sampling wind and water in an effort to understand how pollutants reach the most remote parts of the globe, many thousands of miles from where they were generated.
The scientists are also studying how carbon dioxide is exchanged between the ocean and atmosphere under various wind, wave, and other conditions.
Vlahos' seagoing research focuses on two areas: persistent organic pollutants (POPs) and dissolved organic carbon (DOC). POPs derive from "perfluorinated" compounds used in such products as nonstick cookware, waterproof clothing, cleaning and personal care products, and stain-resistant carpeting.
"Sometimes, the properties that make these chemicals so useful are also the reason they build up in the environment and are not broken down easily," Vlahos says.
"They are of world-wide concern."
Unlike the POPs that are always regarded as harmful when they make their way into the environment, DOC occurs naturally and provides essential benefits to freshwater and marine ecosystems.
Carbon is needed for life; but sometimes there's too much of a good thing, and that is one aspect of what Vlahos is studying.
"Everything on our planet cycles, including carbon," Vlahos says.
"But our use of fossil fuels is unprecedented. Burning fossil fuels creates carbon dioxide, and as it accumulates in the atmosphere, land, and continental shelf, it changes life in many ways by shifting global balances."
For example, increased carbon in the atmosphere also adds to carbon levels in the sea, affecting the ocean's pH level and the many organisms that depend on pH stability.
Computer modeling had predicted the presence of various perfluorinated compounds and their concentration in arctic water, air, fish, and mammals, but Vlahos and her team were the first scientists to actually go to the Arctic to take measurements and validate these models.
She said, "It's no surprise that Connecticut, with its population density, is a hot spot for these pollutants; but when they show up in remote areas, that raises all sorts of questions."
Toxins in remote areas are like "canaries in the mine," Vlahos says, providing early evidence of environmental threats.
Toxic chemicals accumulate in fish and are passed directly to humans who eat them, she says, citing the recent concerns about high levels of mercury in blue fin tuna and other fish.
All species – humans included – also pass toxins to their young, she adds, and some toxins have been shown to affect reproductive rates.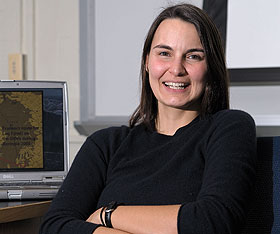 Penny Vlahos, assistant professor of chemistry, is part of a team studying pollution in the Southern Ocean surrounding Antarctica.
Photo by Frank Dahlmeyer
To evaluate air samples, the scientists pump air through very fine filters and materials that the pollutants stick to, while keeping careful track of where the air samples were taken.
The results are matched up to wind patterns to try to determine where the pollutants originated.
The DOC sampling involves filtering water and then subjecting the tiny compounds to mass spectroscopy.
The goal is to understand how materials gathered from various water conditions change at the molecular level.
Vlahos, an environmentalist both personally and professionally, says she is encouraged by "clever engineering" that has led to the development of pesticides that degrade in the atmosphere far faster than the now-banned DDT.
"Green engineering," she said, can design manufactured materials, such as polymers used in plastic bags, with the environment in mind.
"Light-sensitive polymers, for example, will break down far faster in the environment than some of the polymers being used today," she says.
On the Southern Ocean expedition, which began in late February and runs until April 12, the UConn participants include Vlahos; assistant professor Heidi Dierssen of UConn's Coastal Ocean Laboratory for Optics and Remote Sensing; and associate professor James Edson, a marine meteorologist who investigates how the atmosphere and ocean interact.
Alejandro Cifuentes, a doctoral candidate in marine sciences, will also be on board the RV Brown.
For the duration of the cruise, he will co-manage various experiments with colleagues at Columbia University's Lamont-Doherty Earth Observatory and the National Oceanic and Atmospheric Administration (NOAA).
The expedition, sponsored by NOAA and NASA, includes dozens of scientists, each with their own projects.
The ship leaves from Chile and will be in open ocean the entire time, in contrast to the arctic voyage.
On that trip, the scientists were fortunate to see such wildlife as polar bears and whales in their natural habitat, but Vlahos says the only likely Southern Ocean escorts will be albatrosses and other long-distance flyers.
Vlahos has high hopes for the expedition and its results.
"The data that Heidi, Jim, and I and our non-UConn colleagues are gathering will expand knowledge, both on the academic and political side," she says.
"Decisions relating to climate change, chemicals in our environment, and potential threats to biota or our food systems need that kind of data."