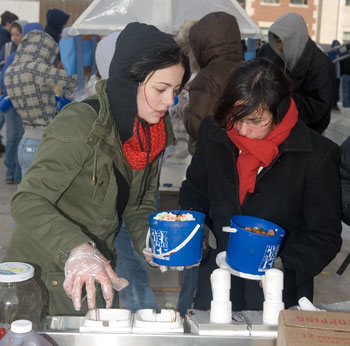 Students fill their bowls with Dairy Bar ice cream at the SUBOG One Ton Sundae event on Feb. 9.
Photo by Peter Morenus
February 19, 2007 ¦ Volume 25, No. 21

Emeritus professor donates $2 million to psychology
A psychology professor who retired in 1977 after 29 years at UConn is giving $2 million to the department to endow scholarships and graduate fellowships in psychology. Read more...
Plans underway for energy resources institute
A multi-disciplinary Institute for Energy Resources is being formed at the University as a catalyst for the development and growth of a renewable energy industry in Connecticut. Read more...
Hathaway appointed to NCAA committee
Athletics director Jeffrey Hathaway has been appointed to the NCAA Division I Men's Basketball Committee. The appointment will be effective Sept. 1, and is for a five-year term. Read more...
Photos to be taken by March 9 for new University identification cards
Faculty and staff hired more than three years ago – before September 2003 – must obtain a new photo for a new University ID before March 9. The new photos will be used as the One Card Office works to replace all University identification cards previously issued to faculty, staff, and students. Read more...