Students in Anne D'Alleva's museum studies graduate course put theory into practice, and now the Benton Museum has added a historic photograph to its collection.
When D'Alleva, associate professor of art and art history and women's studies, held her course "Museums and the Interpretation of Culture" in the Benton last semester, curator Thomas Bruhn came up with an idea.
"The course had a lot of reading and theory, and I thought it would be interesting for the students to do a related project that was practical instead of theoretical," he says
. "I suggested that we set up a budget and have each of the students find a work of art that fit into that budget, bring the work back to the Museum, and present an argument as to why it belongs there. The work would also need to have pedagogical possibilities."
The focus was on pre-1950s photography, because the Museum has little in that area, Bruhn says, noting that the funds came from an endowment.
D'Alleva adds, "We have a big studio program in photography and teach several history of photography courses, so an acquisition in that area would serve the teaching needs of the University."
D'Alleva, Bruhn, and the class of seven students spent a day in Boston at two art galleries examining works of art for consideration.
Each student selected a work or works to propose to the Benton for purchase. The dealers sent the original works to the Benton.
Students had about three weeks to research the work; presentations took 15 minutes each.
"They acted just as a curator would at a major museum," says D'Alleva. "They picked a work, researched it, and made an argument as to why the work should be part of the collection. It was great fun, hard work, and a wonderful experience for them."
The final selection for purchase was made by Bruhn, D'Alleva, Museum director Steven Kern, and Kelly Dennis, an assistant professor of art and art history.
The work selected was William Dassonville's "San Francisco from Telegraph Hill," a gelatin silver print from the 1920s. Bruhn says Dassonville worked in the era of pictorialism, favoring self-expressive imagery using soft focus and diffuse lighting.
"The idea that "beauty" or visual appeal must be inherent in the pictorialist photograph was paramount," Bruhn says.
"It was a question of which of these works are best for the Museum," he adds.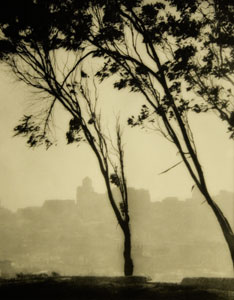 William Dassonville's "San Francisco from Telegraph Hill," a gelatin silver print from the 1920s, has been added to the Benton's collection.
Photo supplied by Benton Museum
"The students all made wonderful choices, and any of the pieces they chose would be worth having in the collection. We had to come to a mutually agreeable decision. It was like a real board meeting."
Kern, director of the Benton, says, "The Museum is here to be an integral part of campus life, both for academics and enrichment. We believe students come first, and it's a pleasure to be able to share the experience of building a museum collection – one of the most exciting aspects of the profession."
Ashley Sklar, a second-year master's student in art history, says "narrowing down our options was tough, and while we all eventually selected our own images, it was great to see how differently we all interpreted the same project. Each of us found photographs that really augmented the existing Benton collection, galleries, and goals for the future."
She says the project was a "great opportunity for us to use a lot of the theory and critical material we were reading and apply it to actual museum practice. Bringing hands-on, real-life practice into any class makes whatever subject you're studying ring true in a much more concrete way."
Kristin Zosa Puleo, a second-year master's student in art history, says she enjoyed learning about the photographer and the context of the photo she selected.
"I am focusing my thesis on Peter Paul Rubens, the 17th-century painter, so you can imagine that I didn't know much about pre-1950s photography before this project," she says.
Tara King, a first-year master's student in art history, says the project gave her a taste of the process that museum curators and directors go through when faced with tough decisions about how their collection should grow.
"The most exciting aspect was visiting the different art dealers," King says. "The number of images available from the time period was vast, making a choice as to which one I would present to the acquisition board extremely difficult."
D'Alleva says the students took the process seriously "because they knew they were spending real money from the Museum. I was very impressed with how much thought they put into it – researching the Museum's collection, and speaking to UConn professors who teach photography and art history, asking them what kinds of works might interest them."