A cold Sunday night before a holiday would not seem to be a promising time to hold a coffeehouse discussion about stem cell research and ethics.
But it turned out to be a hot ticket, with 40 or more people packed into Starbucks in Storrs last week to hear UConn faculty members describe the science of stem cells and confront questions about ethics.
Concerns were raised about whether research funding would be better spent on treating disease and diarrhea among children in Africa, for instance, and on whether research should focus on adult rather than embryonic stem cells.
"I think we need to have multiple strategies," said Anne Hiskes, associate professor of philosophy and chair of UConn's Embryonic Stem Cell Research Oversight Committee (ESCRO), which ensures that research at UConn meets ethical standards.
Eventually, embryonic stem cell research may lead to solutions for diseases that persist in developing countries, faculty members said.
Dr. David Rowe of the UConn Health Center pointed out that one of the grant applications received in the state's first round of stem cell research funding was for a study of how malaria infects cells.
Techniques are currently being developed that would allow researchers to extract cells from a blastocyst, or pre-embryonic stage, without destroying an embryo, said David Goldhamer, associate professor of molecular and cell biology.
Because research proceeds slowly, he noted, it might take years to find out whether adult stem cells could be as useful as embryonic stem cells in a particular research project.
"You need to do it concurrently," he said.
Joanne Conover, assistant professor of physiology and neurobiology, said that in her neural cell research, adult stem cells are limited in their potential compared with embryonic stem cells.
Conover, Goldhamer, and Rowe are all working on projects funded in the first round of the state's embryonic stem cell research support.
Rowe is the principal investigator for one of the largest grants, a $3.5 million project to study how embryonic stem cells might help rebuild bone, cartilage, skin, and muscle tissue.
Connecticut currently is the only state in the nation that has money on the table to support embryonic stem cell research, Rowe pointed out.
Although California passed legislation to fund it, that program has been tied up in litigation and none has been spent.
New Jersey and Maryland restricted their funding initiatives to adult stem cell research.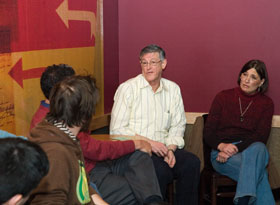 Dr. David Rowe, director of the Center for Regenerative Medicine, and Professor Anne Hiskes, chair of UConn's Embryonic Stem Cell Research Oversight Committee, were part of a panel that addressed questions from the public about stem cell research during the first Science Café on Feb. 11.
Photo by Frank Dahlmeyer
Pennsylvania restricts human embryonic stem cell research to the limited number of lines that were created and registered before current federal restrictions went into effect in 2001.
Connecticut was in the forefront of providing state funds for embryonic stem cell research, after restrictions were imposed on the use of federal funds for research involving new embryonic stem cell lines.
The UConn Board of Trustees recently approved purchasing a building near the Health Center in Farmington to house UConn's stem cell research efforts. The building has no connections to federal funding.
Connecticut also has "the most up-front ESCRO [ethical review board] in the nation," said Rowe, to applause.
"Even if it's legal, the ethical issues still have to be discussed," he said.
Audience members at the Science Café also wanted to know whether they could donate eggs for stem cell research, whether economic issues are driving the state's push in stem cell research, and whose religion, if any, is the basis for determining the ethics of stem cell research.
Most religions agree on basic ethical principles, said Hiskes, who noted that her approach on ethics is that of a philosopher – what is right conduct.
"Complicated is exactly the word to describe every aspect of this," commented one audience member, adding, "Thank you all for hosting this."
Stem cell research was the first topic for a Science Café, organized by Mark Peczuh, assistant professor of chemistry, and sponsored by the chemistry department and the American Chemical Society.
The coffeehouses are designed to provide the public with accurate information about scientific issues and an opportunity to discuss them with scientists.
The next Science Café will be held on March 18 from 7 to 9 p.m. at Starbucks in Storrs.
The topic is the science and technology of alternative energy sources.