Lynn Bloom likes to give honors students lots of leeway to learn.
It's a risky strategy, she admits, but one with a potentially big payoff.
Such was the case when Bloom, Board of Trustees Distinguished Professor and Aetna Chair of Writing, worked with Carla Hill, an art history major and University Scholar eager to write a novella, even though she had done no creative writing previously.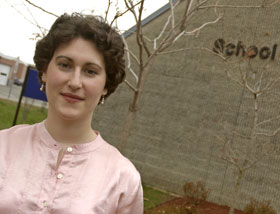 Carla Hill, '05, studied creative writing with Aetna Chair Lynn Bloom.
File photo
The results were so impressive that Bloom chronicled the experience in "High Stakes Gambling in the Master Class," a co-authored lead essay appearing in the winter 2006-07 issue of the Journal of the Assembly for Expanded Perspectives in Learning.
Hill contacted Bloom after being turned down by another creative writing advisor because of her lack of experience.
Bloom agreed to become her advisor. "I am always willing to take a gamble on a highly motivated student," she says.
After meeting several times, the duo kept in touch by e-mail while Hill, then a junior, spent a semester abroad in Florence, the setting for the novella, Ritratto di una Donna, Portrait of a Woman.
They met weekly when she returned.
Hill's early writing reflected her strengths and shortcomings.
"She's very good at describing scenes and paintings," Bloom says, "but she had never written any fiction or anything with character or dialogue, and had never worked with plot."
During their first semester together, Hill recalls, Bloom would make only minor suggestions about the next direction she should take: "Essentially she let me discover things myself."
But when Hill received her first semester's grade, an A-, she was disappointed. She wanted an A to maintain her 4.0 average.
Bloom says the A- was generous: "I felt she had come a long way and I wanted to reward her effort, but the caliber of her work, at that point, was a B."
Hill asked what she could do to get an A.
The two decided Hill would take an incomplete, and Bloom would consider her work from both semesters at the end of the second semester.
"There was no guarantee this would result in an A," Hill says. "Dr. Bloom is a woman of great integrity."
Bloom also advised Hill to stop writing and get away from it for six weeks.
During the hiatus, Hill did research, studied books on creative writing, and read a few novels, paying special attention to how they were written.
"When I restarted writing," she says, "I had a more complete idea of the plot. More importantly, I started at the beginning instead of jumping from vignette to vignette when the going got tough."
Hill also realized her entire first draft was unusable.
"It was important that I discovered it on my own, because nothing is a stronger motivator than failure," she says.
Bloom considers the first draft part of the process of learning.
Hill could tell that her second draft was better and "less forced." Bloom was stunned at the metamorphosis.
"I've worked with comparable students in comparable fields and their writing isn't as good," she says. "And that's what intrigued me and made me want to write the article, to show what we did, and how could it have been derailed.
"A student needs a teacher to let them try things out without trying to edit their work prematurely, and without jumping in with a lot of advice," she says.
"It can be like a child learning to speak. You wouldn't interrupt every second or third word they said or they'd never say a word, or be stutterers."
Lynne Goodstein, associate vice provost and director of the Honors Program, says Bloom and Hill's experience illustrates "the kind of collaboration and professional relationship that forms between a good honors student and a faculty member."
Goodstein agrees with Bloom's assertion that "if teachers set high standards and stick to them, highly motivated students will meet them.
"Carla started out somewhat naïve about what it would take to be a writer," Goodstein says. "There was a process of struggle during the first semester, and Carla had to regroup, after not having the experience she might have expected or wanted. Certainly by the second semester she did."
Bloom believes Hill's novella may be publishable.
Hill also would like to see it in print, but hasn't had time lately to fine-tune her manuscript. She's studying fresco restoration in Florence, and trying to become fluent in Italian.