The UConn Foundation and supporters of Hillel at UConn have obtained promises for more than a quarter of the $12 million needed to construct and endow a new building for the Hillel student center, which serves the more than 1,600 Jewish students at UConn and other members of the University community.
Led by Morris Trachten and his wife, Shirley, who last summer donated $1 million to the project, the campaign is bringing in money on an almost daily basis, says Pamela Newman, director of Hillel.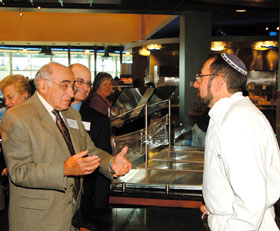 Morris Trachten, left, speaks with chef Bruce Hessing at the kosher dining facility, which was established with a gift from Trachten. He recently donated $1 million to upgrade the University's Hillel.
File photo
She says three additional major gifts are among the many being pursued.
"A lot of alumni and state residents are stepping forward to help us reach our goal," says Newman.
"As the University's student population increases, so does the Jewish population, and we need more space and better space so we can offer appropriate programming for those students."
The process of selecting an architect for the new building is already under way, Newman says, and a decision should be made by early April.
The building, which will be constructed at the site of the current building (the organization will use modulars or find other space for events during construction), will be about 20,000 square feet.
It will feature a large student lounge, meeting rooms, study area, a library, and a multi-purpose space for gatherings, religious services, and social activities.
Students will be invited to participate in focus groups to further define programmatic needs for the new building, she says.
"When you think of Hillel across the country, you can see they are viable and important parts of their university communities and serve as gathering places for both Jewish and non-Jewish students," says Henry Zachs, co-chairman of the Hillel campaign with Claude Bernstein, a member of Hillel's governing board, and Herbert Dunn, a member of the UConn Foundation's executive committee.
"The University has been very supportive of our campaign, both by endorsing the need for a new building and by offering the support of its staff as well. A gift to the Hillel campaign is a gift to the University."
University President Philip E. Austin says, "UConn is privileged to have a vibrant Hillel organization on our campus that serves the social and cultural needs of our Jewish students and the greater University community. This project will not only provide vital new space for programs, but will also create a gathering place for students to explore important aspects of their heritage."
Trachten isn't a new donor to the Jewish community on campus.
In 2003, he donated $150,000 to help create the Morris N. Trachten Kosher Dining Facility at the Towers residential complex, the only kosher facility on campus.
He believes the University will be able to recruit a wider range of Jewish students with the plans for Hillel, combined with the dining facility.
"After the kosher kitchen opened, a number of parents called to ask me about it and find out what else UConn was doing for Jewish students," he says.
"Now with Hillel, we'll be able to attract an element of Jewish students, including graduate students, we just couldn't before. It's the old saying – if you build it, they will come."
Hillel at UConn is part of the international organization Hillel: The Foundation for Jewish Campus Life, which serves to enrich the lives of students through cultural programming, social events, social action projects, and religious programs.
It partners with the University to attract and retain outstanding Jewish students, collaborating with other campus ministries and with Greek Life, and participating in summer orientation sessions for parents and incoming students.
Approximately 10 percent of UConn students, or 1,600, are Jewish; of these, an estimated 1,200 are served by Hillel in some capacity.
The existing Hillel facility was constructed with private funds in 1948 as a religious center, and has long been in need of repair and renovation, Newman says.
"In addition to serving the programmatic and social needs of Jewish students at UConn," Newman adds, "we wish to work with the University to use our great location on campus to incorporate a much needed and beautiful pathway for the thousands of students who walk between Towers and the main campus each day."
If the money is there, Newman says, plans call for construction to begin next academic year.
Says Trachten, "Those who have been fortunate throughout their lives see that now it's time to give something back."