A psychology professor who retired in 1977 after 29 years at UConn is giving $2 million to the department to endow scholarships and graduate fellowships in psychology.
Maurice Farber, now nearly 95 years old, has established a trust to help financially needy students in his former department.
It will benefit both undergraduates majoring in psychology and psychology graduate students.
Farber lives with a caretaker in an apartment in the Upper East Side of Manhattan. His wife, Ruth May Farber, has died.
The couple had no children.
He is described by those close to him as a gentle, cultivated man, an avid reader, and a good listener.
He wanted to help today's students, particularly in light of the growing costs of a college education, says a family friend.
Farber himself was mentored by social psychology pioneer Kurt Lewin at the University of Iowa.
He wrote a well-received book, Theory of Suicide (1968), and was also interested in the social psychology of political groups.
He wrote many articles from a psychoanalytical viewpoint about national character and political behavior.
He was known as a very good teacher, says Professor Charles "Skip" Lowe, head of department, who joined the faculty five years before Farber retired.
As a social and clinical psychologist, he was "an ideal mentor for students in both areas," Lowe says.
At the time Farber started teaching at UConn in 1948, psychology had grown from three faculty members in the 1930s to about 10.
Many of its students were veterans attending UConn on the GI bill.
The psychology department then was housed with mathematics and political science in a former Navy barracks building located where E.O. Smith High School now stands.
Today, it has more than 1,200 undergraduate majors and 150 graduate students, and enrolls more than 8,000 undergraduates in its courses each year.
It is housed in its own building, named for Weston A. Bousfield, head of department when Farber arrived.
There are now 55 psychology faculty, and the department was recently ranked fifth in the nation for attracting federal funding for research in psychology.
In 1954, Farber's first Ph.D. student, Theodore Millon, was the eighth person to earn a Ph.D. in psychology at UConn.
The department has now graduated 822 Ph.D.'s.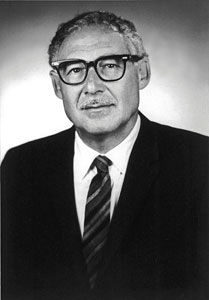 Professor Maurice Farber
Photo supplied by the Department of Psychology
Farber, a native of Jersey City, N.J., studied at New York University and City College, and left medical school in Switzerland to become a clinical psychologist.
He served in Army intelligence and psychological warfare during World War II and was posted to Paris, London, the Ruhr area, and Berlin.
He arrived in Storrs a sophisticated world traveler, who went to New York City on weekends to socialize with Greenwich Village intellectuals.
He and his wife, Ruth, had a broad group of friends with wide interests, recalls Dennison Nash, emeritus professor of anthropology, who still visits Farber in New York.
Although many faculty members at that time bought houses close to campus, Farber found an old house outside Stafford Springs surrounded by acres of land.
He purchased a blue Chevy from a graduate student for his daily commute from Stafford Springs.
It was the source of a rolling narrative of Freudian analysis based on his encounters with other drivers, his former colleagues recall.
During the icy winter when students renamed the campus "Siberia" and referred to buildings by the names of Russian cities (psychology was Rostov), Farber, driving in from Stafford Springs, skidded down to the stoplight at the intersection of Route 195 and North Eagleville Road, hitting the car in front of him.
The other driver was angry, a reaction that interested Farber, who analyzed and reported on it to his fellow psychology faculty members, recalls Sam Witryol, professor emeritus of psychology.
The next day, driving toward the same intersection, he slowed carefully, preparing to stop. Still, he skidded into the car in front.
It was the same car he had hit the day before, and the same driver.
This time Farber came to work with a black eye.
Unconcerned about his injury, he was excited to analyze the reaction of the man who had punched him.
"[Maury] was telling me objectively what took place," says Witryol. "It was just a social encounter he was describing."
Farber is still fascinated by people. According to his caretaker, he tells her, "Every face has a story."
When Farber retired in 1977, the department head at the time, Jerome Smith, summed up his achievements:
"He has taught well, extended our knowledge, and been a warm friend and delight to his colleagues."