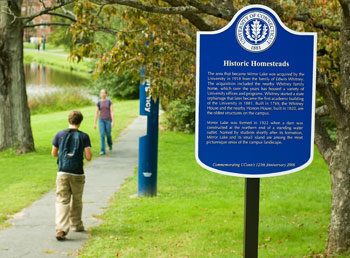 A historic marker near Mirror Lake, one of 11 placed on campus as part of the University's 125th anniversary celebration.
Photo by Peter Morenus
September 11 , 2006 ¦ Volume 25, No. 3

Historical markers showcase UConn's past
A series of historical markers were erected across campus last week, giving the UConn community and visitors an easy-to-read primer on the University's history. Placed in 11 key spots across campus, the signs are close replicas of the historic markers found along the nation's roadsides and at Civil War sites.
New software helps visually impaired, improves web access
The University has a new software license that will help people with visual impairments retrieve information from UConn web pages. The LIFT Text Transcoder efficiently converts web pages with images, style, color, and text into text-only sites, which helps people who have visual limitations.
Fund-raising numbers show strong private support for UConn
The University of Connecticut Foundation Inc. received more than $43 million in new private giving in the past year to benefit the University. The financial year-end results continue the recent trend of strong private support for students, faculty, and programs at UConn.
Scholarships named for fine arts dean
When David Woods was an exchange student in Copenhagen 43 years ago, he had no idea that one day a Study Abroad scholarship would be named in his honor. But that's exactly what happened to Woods, who is now dean of the School of Fine Arts.
More headlines...