Two finance professors and a UConn graduate have produced the first documented research demonstrating the benefits to consumers who lease automobiles and decide to purchase their cars at the end of the leasing period.
Carmelo Giaccotto and Shantaram Hegde, professors of finance in the School of Business, and Gerson Goldberg '67 (CLAS), '94 Ph.D., an associate professor of financial services at Roger Williams University whose family owned an auto dealership for many years, analyzed publicly available data on the automobile leasing industry for a study that will be published later this year in the Journal of Finance.
The journal was particularly interested in the study because it is the first documented study that sheds light on the consumer automobile lease market at a time when large auto manufacturers are near bankruptcy.
Using information on leasing of the most popular cars - General Motors Saturn, Honda Civic, and Toyota Camry - the researchers found that giving consumers the option to purchase the car at the end of a lease period is worth more than $1,460, nearly 10 percent of the value of each of these automobiles which sold for around $15,000.
"The consumer is sitting on a valuable right and asset," says Hegde of the purchase option, which is embedded into standard automobile leasing contracts.
"There is no separate line in the lease that says you're paying $1,500 for the right to purchase the car."
The researchers say auto manufacturers lose money when leased cars are purchased because if auto loan rates go up, a potential new car purchase is lost.
Public documents on the auto leasing industry took several years to collect, they say, and that more specific data from the auto manufacturers would provide improved insights.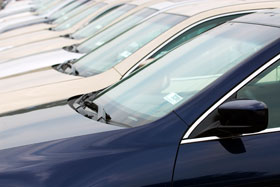 A study of the automobile leasing industry by researchers in the School of Business will be published later this year in the Journal of Finance.
Photo by Peter Morenus
"The data was hand collected," says Hegde.
"We had to go to primary sources for publicly available data from the Auto Lease Guide , National Automobile Dealers Association, and magazine reports. The data from written contracts would be better. There are hundreds of thousands of contracts sitting on the books, but we can't get those from the companies. Our hope is that after they read the study, they'll call us to do that."
Giaccotto says the models they devised for the automobile industry could be developed to examine other segments of the multi-billion dollar leasing market in areas such as construction equipment, aircraft, and shipping.
According to the U.S. Census Bureau, the renting and leasing industry produces $102 billion in revenue annually.
The two researchers say their work on the auto lease study will bring dividends to the classroom for UConn students.
Hegde leads a doctoral-level class in options contracts, where he hopes to develop the model into a more applied form that can become part of the MBA curriculum.