Irving Saslow, a former member of the University's Board of Trustees, died Sept. 5. He was 87.
Saslow, formerly of Hamden, graduated from UConn in 1941 with a degree in political science. In 1983, he was appointed by Gov. William O'Neill to UConn's Board of Trustees, and served until 2001.
He was appointed to the President's Athletic Advisory Committee in 2001.
Ronald Schurin, executive secretary to the Board of Trustees, worked with Saslow from 1997 to 2001. "Irv Saslow was a vivid presence on the Board of Trustees," he says, "and everyone who had the chance to work with him valued his contributions. He brought a special set of attributes, including a tremendous institutional memory dating back to his days as a student, a deep commitment to the University, and an unforgettable sense of humor."
Louise Bailey, a longtime trustee, says Saslow "had a real devotion to his alma mater and was a dedicated member of the Board."
Saslow served in the U.S. Army from 1942 to 1946 as a Rank Staff Sergeant.
He worked in insurance, owning his own agency, the Saslow Insurance Agency in Hamden, from 1955 to 1990. Subsequently, he worked for a number of insurance agencies in New Haven, Wallingford, and Hamden.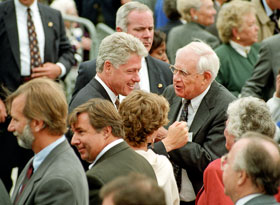 Irving Saslow, center right, a former university trustee who died Sept. 5, greets President Bill Clinton after the dedication of the Thomas J. Dodd Research Center, in this file photo from 1995.
Photo by Jon Olson
Saslow became involved in many political and civic activities in the town of Hamden, including the Zoning Board of Appeals, and the Hamden Legislative Council. He was PTA president at Dunbar Hill School for two years, and served as Hamden Democratic Town Chairman for eight years.
He is survived by his wife of 56 years, Janet, three children, and three grandchildren.
Contributions may be made in Saslow's honor to the Babbidge Scholars Recognition Fund.
Checks may be made payable to the University of Connecticut Foundation. Please indicate on the check that your contribution is in honor of Irving Saslow.
Mail checks to the University of Connecticut Foundation Inc., 2390 Alumni Drive, Unit 3206, Storrs, CT 06269. People may also make a donation in his memory to a charity of their choice.