The "Aha!" moment came during an annual event two years ago, says Rebecca Gorin, assistant manager of Whitney dining hall.
With Connecticut farms losing the battle to developers at a record pace, shouldn't UConn, the state's land grant University, do something to help?
The answer, from all corners, was a resounding "yes."
Now, as a new semester begins, students dining at Whitney are eating produce fresh from the garden. In doing so, they are supporting the EcoGarden Club, a student organization that's tending a one-acre plot off Route 195, and a series of local and state farmers.
Gorin suggests that people think of the University's foray into sustainable gardening like the ripples that spread out when a pebble is tossed into a pond. Each ripple, she says, reflecting another farm.
"The center of the ripple is the students' garden off Storrs Road. The nearest ripple to the center is a farm from Ashford where we buy maple syrup and honey.
Other ripples are other farmers across Connecticut where we purchase food," she says.
"We buy as much as we can as close as we can, and then we move outward."
UConn dining services officials have long sought to buy products from Connecticut vendors. Now, at Whitney, Gorin is taking that effort a step further, purchasing produce not only in-state but from as close to campus as possible.
"Sustainable means different things to different people," says Gorin.
"For us, it's a system that can support and sustain itself. The student garden is a good example. They're growing a wide variety of vegetables we're using in Whitney. Eventually, Whitney - and the other dorms - will feed compost back to the garden.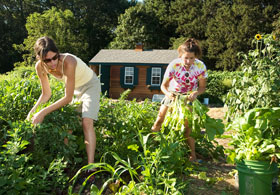 Undergraduates Serena Epstein, left, and Nicole Anderson harvest turnips in the EcoGarden Club's garden. Produce from the garden is served in Whitney Dining Hall, as part of an initiative to offer sustainable food on campus.
Photo by Jordan Bender
"It's important to buy locally. We do what we can to keep agriculture viable in Connecticut, both the farmers and food-producing businesses," she says.
The University chickens also contribute to the effort by producing cage-free eggs.
The ripples go beyond vegetables and eggs, Gorin says.
"We're getting beef from farms in Old Lyme and Freeport, Maine. We're using local maple syrup and honey from Ashford, and we just served some great lamb and feta burgers using lamb and cheese we bought at a farm in Lyme," she says.
"They were well received."
Additionally, some of the dairy products come from the Stearns Mountain Dairy in Mansfield, while smoked meats are procured from Torrington.
Gorin says officials would like to expand the effort to other dining halls, but there are challenges to expansion, particularly cost and the state's contracting system, with low bid requirements and primary vendors.
Soon, however, fresh Heirloom tomatoes will soon arrive by the bushel, from the student garden.
It will be a good time to eat at Whitney.