A new Heart Rhythm Program is now up and running at the Health Center, offering patients sophisticated technologies to detect and repair problems affecting the heart's rhythm and electrical systems.
Central to the new program is the electrophysiology lab, located on the second floor of the John Dempsey Hospital in the Pat and Jim Calhoun Cardiology Center.
Completed in August, the lab includes the most advanced imaging, monitoring, and lighting equipment.
The cardiology center has a team of experienced specialists offering comprehensive care to diagnose and treat diseases of the heart and blood vessels.
In the electrophysiology lab, Dr. Mathias Stoenescu, a cardiologist with specialized training in clinical cardiac electrophysiology, detects and treats heart rhythm irregularities, such as irregular heart beats - or arrhythmias- and sudden cardiac death.
"The heart relies on a regular, steady sequence of electrical impulses to maintain normal function," Stoenescu says.
"Our new technology allows us to create an electrical mapping of the heart and pinpoint the source of irregularities. From there, we administer treatments to repair the problem."
Treatments may include an implant device - such as a pacemaker or an implantable cardiac defibrillator - or a procedure, cardiac ablation, which selectively eliminates the cells that are causing problems.
Pacemakers continue to be a common treatment for irregular heart beats, says Stoenescu.
Today's pacemakers are much smaller than they were a generation ago, he says: they are now usually about the size of an ATM card.
A pacemaker is implanted permanently into the body to monitor electrical impulses in the heart. If a dangerous arrhythmia occurs, the device delivers electrical stimuli to normalize the rhythm of the heart.
Stoenescu also uses biventricular pacemakers, devices which pace both sides of the heart simultaneously, improving its performance.
This can be an effective treatment for patients with heart failure, he says.
A new technology, created by Massachusetts-based CardioOptics Inc., is the world's first to "see" through flowing blood inside the heart and blood vessels to facilitate implantation of biventricular pacemaker wires.
The Pat and Jim Calhoun Cardiology Center is one of the first in the country to offer this advanced technology.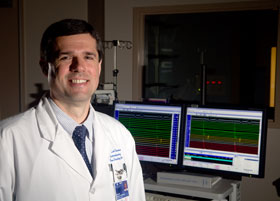 Dr. Mathias Stoenescu in the new electrophysiology lab at the Pat and Jim Calhoun Cardiology Center.
Photo by Peter Morenus
The Heart Rhythm Program also offers technologies - specifically implantable cardiac defibrillators - to help prevent sudden cardiac death in patients who are at higher risk.
"Sudden cardiac death is a leading killer of American men and women," Stoenescu says.
"It's the result of electrical problems in the heart that lead to an abrupt and complete halt of heart function, and is more prevalent than stroke, breast cancer, accidents, and AIDS combined."
Implantable cardiac defibrillators monitor heart rhythm and deliver shocks if problems are detected. These devices are about the size of a typical cell phone.
In addition, Stoenescu offers some patients cardiac ablation, a relatively new technology to cauterize tissue in the area of the heart that is causing irregular heart rhythms, typically through the use of radiofrequency electrical energy.
It does not involve surgery, and patients are awake throughout the procedure.
"In about 95 percent of cases," says Stoenescu, "the ablation procedure completely cures heart rhythm problems, restores normal heart function, and eliminates the need for open-heart surgery or long-term drug therapy."
Stoenescu joined the Pat and Jim Calhoun Cardiology Center in 2005 from Lankenau Hospital, Main Line Health System in Philadelphia, where he completed a fellowship in cardiac electrophysiology and cardiovascular disease.
He received his medical degree from the University of Hamburg, Germany, and completed a residency in internal medicine at Geisinger Medical Center in Danville, Pa.
Stoenescu is board certified in internal medicine, cardiovascular disease, and clinical cardiac electrophysiology.
For more information, call 860-679-3343.