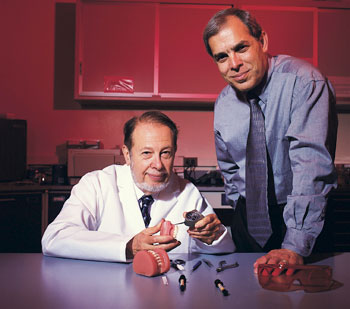 Charles Burstone, seated, professor emeritus of orthodontics, and Jon Goldberg, professor of oral rehabilitation, biomaterials, and skeletal development, invented FibreKor, a material used in dental bridges and crowns. The product was named one of 25 innovations that changed the world.
Photo by Peter Morenus
March 20, 2006 ¦ Volume 24, No. 24

Health Center dental invention 'changed the world'
A product invented by two Health Center faculty members and manufactured by a Connecticut company has been named one of 25 innovations that changed the world.
University to publish human rights journal
The Journal of Human Rights, a major international scholarly publication, will be based at UConn now that Richard Hiskes, professor of political science, has been named editor.
Bill would expand oversight of UConn 2000
The Higher Education and Employment Advancement Committee of the General Assembly last week unanimously approved a bill that would expand oversight for UConn 2000, while maintaining the University's day-to-day responsibility for the program.
Fine raised for parking illegally in handicapped spots
University officials are increasing the fine for parking illegally in a handicapped parking space to $131, the maximum allowed by state law.
More headlines...